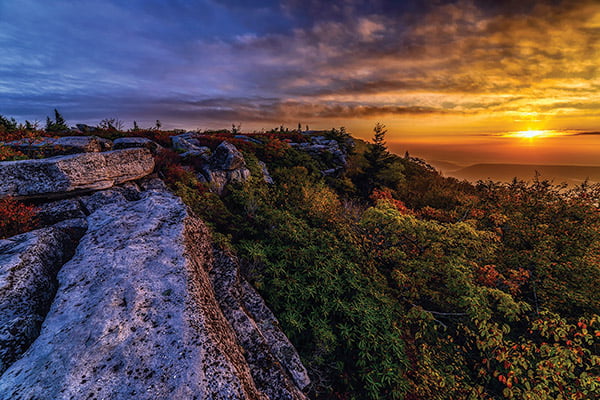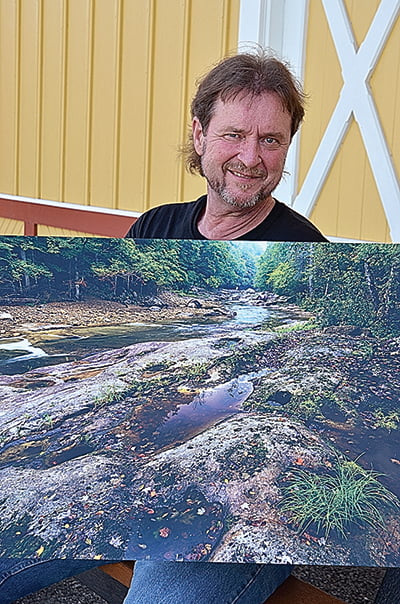 Laura Dean Bennett
Staff Writer
Visitors to the 4th Avenue Gallery in the Marlinton Depot will notice that something new, and quite different, has been added – photographs by Thomas R. Fletcher.
What makes the nature scenes different is that the images are printed on aluminum that has been infused with dyes.
This process creates an image that has an unusually vibrant, almost 3-D quality.
It feels as though you can reach in and touch a rock, or drag your hand in a flowing stream.
Fletcher came across this process a few years ago.
"When I saw the glassiness, the color and the depth, I was hooked," Fletcher said.
"My goal is to show the world the beauty of West Virginia. In the process, I hope to change the misguided perceptions some outsiders may have."
These are the serious thoughts behind the successful 30-year career of a West Virginia native and self-taught professional photographer.
Fletcher was born and raised in West Virginia.
Growing up in the isolated mountains of Webster County, he developed an early and endearing love of nature.
These days, he and his wife, Deborah, whom he met when they served in the Navy, share their home on the Lower Williams River in Cowen with three adopted dogs and a foundling kitten.
When asked about Deborah's work, Fletcher grinned and said, "Deborah manages me, and that's a full-time job!"
"West Virginia is a beautiful place with wonderful people, and I want to help encourage visitors to come and visit here.
"It's a place where people can come and have such a good time in the outdoors."
Fletcher graduated Webster County High School in the summer of 1977 and served four years on active duty in the US Navy.
In 1982, he began his career as a freelance photographer- and has been traveling and taking pictures around the world ever since.
Fletcher has a strong spiritual side.
At one point, he even considered going into the ministry.
He went back to school and graduated from New Orleans Baptist Theological Seminary in 1994.
Finally, after living away from West Virginia for 20 years, Fletcher returned home to West Virginia and his career in photography and photojournalism.
"I'm fortunate to have a skill that has allowed me to see the world," Fletcher said.
"And fortunate that I've been able to return to the beautiful mountains which first inspired me."
Fletcher's photography has appeared in many national and international publications, including:
Americas Magazine, Anchorage Daily News, Backpacker, BBC Wildlife, Blue Ridge Country, Caribbean Travel & Life, Charleston Gazette, Country Discoveries Magazine, Dallas Morning News, Hallmark, Home & Away, Islands Magazine, Midwest Living, National Geographic Magazine, National Geographic Traveler, Natural History, Outside, Petersen's Photographic, Philadelphia Magazine, Sierra Magazine, Town & Country Travel and Travel & Leisure.
Fletcher is well-known among West Virginia photographers and photojournalists.
He's won many awards. Too many to list here, but they include:
• First Place in Photography in 2016 and Bronze Medals for Color Photography in 2017 and 2018 at the Louis A. Johnson National Veterans Creative Arts Festivals
• Tamarack's "Best of West Virginia" in 2017, 2013 and 2010.
• Several of the most prestigious West Virginia Tourism Media awards over a several year period.
Fletcher has always had "the eye" of a photographer.
"I truly believe that I was always meant to be a photographer," he said.
He's been composing photographic scenes in his mind ever since he can remember.
When he was still a toddler, he purposely put an indelible picture in his mind of the moss-covered banks of the mountain spring where his grandmother drew her water.
It's a picture with special meaning for him- and he carries it in his mind to this day.
Fletcher says that this is the same peaceful feeling that he is trying to evoke in many of his photographs.
"There's a lot of green and blue in my pictures," he said. "These are the colors of peace and solitude.
"To me, green conveys life, self-confidence, harmony and balance. Blue evokes solitude, truth, healing and serenity.
"I want to capture a love of nature and solitude in them.
"I'm hoping to give the viewer that peaceful feeling that I felt while I was making the image."
He hopes his work inspires others to notice the beauty that surrounds them, to take the time to "quiet the soul for just a bit."
Fletcher says he's happier being outdoors than indoors surrounded by people.
"Rocks and trees don't give you any static," he said, smiling.
He wants to dispel some of the myths about West Virginia and West Virginians that he's come across in his travels.
"Some people have the wrong impression about West Virginia," he said. "They think it's all coal mines and mountaintop removal. And we are so much more than that.
"There's so much beauty here. You can't argue with people, but you can show them.
"And that's what I try to do."
Fletcher's work can be seen and purchased at Tamarack in Beckley, Mountain Made in Thomas, the Addison Center in Webster Springs as well as the 4th Avenue Gallery in Marlinton.
One can also peruse his images on his website: thomas-r-fletcher.pixels.com