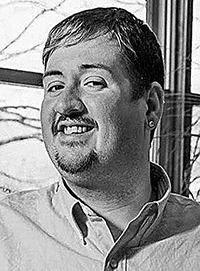 Thomas Buster "Tom" Clevenger, 44, of Slaty Fork, formerly of Webster Springs, unexpectedly passed away Monday, November 6, 2023.
Born December 30, 1978, in Webster Springs, he was a son of Debora K. Postalwait Clevenger, of Webster Springs, and the late Buster T. Clevenger.
Tom was a Broker, Owner and Realtor at Adventure Realty. He enjoyed art, painting, clay, and interior decorating. He previously worked in the restaurants at Snowshoe Mountain Resort. He attended Chapel on the Mount Episcopal Church in Snowshoe.
In addition to his father, he was preceded in death by his paternal grandparents, Onie Earl and Maggie Gathel Groves Clevenger; and maternal grandparents, Russell "Bill" and Barbara Hines Postalwait.
In addition to his mother, those left to cherish his memory are his sister, Loretta K. (Shawn) Cutlip;  brother, Tony Clevenger; nephew, Brandon Cutlip; niece, Amanda Cutlip; his loving furry companion, Christian; and many cousins, aunts, uncles, extended family, friends, coworkers and clientele.
The funeral service was held Monday, November 13, 2023, at Dodd and Reed Funeral Home with Pastor Bennie Cowger officiating.
Online condolences may be shared at www.doddreedfh.com