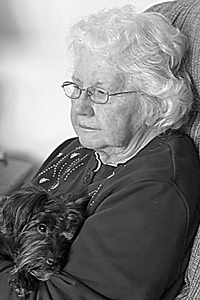 Thelma Vannoy Sheets, 81, of Hope Mills, North Carolina, passed away Friday, January 29, 2021, from complications of dementia.
Born May 27, 1939, in Durbin, she was the oldest of five children of Orval and Helen Grimes Vannoy.
Thelma had fond memories of growing up on a small farm and helping raise her younger siblings.
She graduated with honors in 1957 from Green Bank High School. She attended the Chesapeake & Ohio Railroad Nursing School in Clifton Forge, Virginia, where she graduated with honors in 1960 with a nursing degree.
In 1961, she married Army Private James Sheets, who was also from Durbin. For the next 20 years, Thelma was a dedicated Army wife and stay at home mother for her two sons, James Jr. and Dean.
In 1979, she continued her nursing career by joining the newborn nursery department at Cape Fear Hospital in Fayetteville, North Carolina. Thelma loved caring for the babies and mentored many young nurses. She became second in charge of the newborn nursery in her 20 year career there and retired from the hospital in 2000.
Thelma continued her nursing career by joining the Fayetteville Children's Clinic as a pediatric nurse in 2000. She enjoyed her time there taking care of the children and retired in 2010.
Then she became the main caregiver for her husband of 55 years, retired Sergeant 1st Class James Sheets. Thelma dedicated her life to taking care of babies, children and adults.
She is survived by her son, Dean Sheets; sisters, Dallas Marie Benton and Wilma McMillian; and brothers, Thurman Bud Vannoy and Donald Vannoy.
Graveside service will be Friday, February 5, 2021, at 2 p.m. at Bethel United Methodist Cemetery on Back Mt. with Pastor Tom King officiating.
Online condolences may be shared at www.WallaceandWallaceFH.com