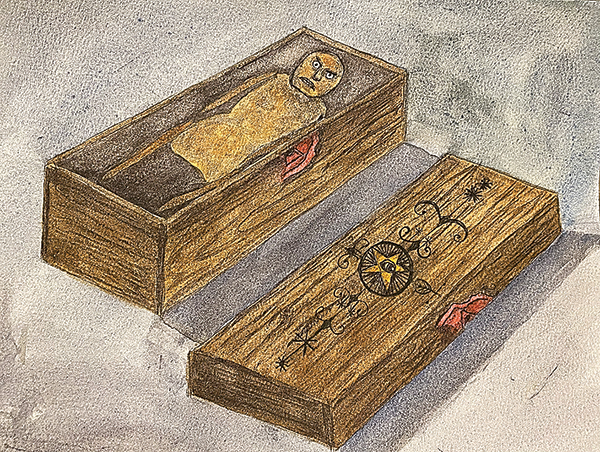 Ken Springer
Contributing Writer
Part Two 
 
Now, do that voodoo that you do so well.~ Occupied Haiti, 1918 
Darcy Adder and Harold Miller, of Droop Mountain, served in the Marines during the U.S. invasion of Haiti in 1915. 
 
Although the two men were from Pocahontas County and went to the same schools, they did not enter the service together. In fact, they were anything but friends. Darcy was tall and muscular and what you might call intellectually barren. 
  
Additionally, he was a sadistic and violent bully of some repute.  
Their paths never crossed in Haiti until 1918, when Harold was attached to Adder's regiment. He noticed immediately that the military hadn't changed Adder; it had made him even meaner.  
One evening after chow, when only a few men were in the barracks, Adder walked straight down the row of bunks, stopping at the bed of a young, timid and slightly backward soldier from Alabama.  
He didn't ask; he informed the young soldier that, from now on, he would have to take all guard duty assignments given to Adder. When the boy protested, Adder immediately reached over his footlocker and, grabbing his ankles, pulled him over the obstacle and right onto the bare concrete floor. 
Before anyone could react, Adder was on top of the kid, pummeling his face against the hard floor. He stood up and kicked him between the legs. When the young man cried out, the brutal man kicked him squarely in the head.  
Adder left the barracks with the bloody soldier curled up on the floor, moaning in pain. Harold and another soldier helped the injured man to his feet and whisked him off to the sick bay. It was touch and go for several days before the kid was considered stable. 
A court-martial was filed against Adder within hours, demonstrating the commanding officer's loathing for the brute. The problem was nobody there, including the victim, would testify against Adder except for Harold.  
According to military records, Darcy Adder received a dishonorable discharge and was sent home to West Virginia after a few weeks in the brig.  
Before the ruffian left, he made a point of speaking to Harold.
"Hey Miller, you damn snitch, you didn't think I'd leave without having a word with you, did you?" Adder said in a threatening tone.  
Harold didn't answer; he just stared unflinchingly into Adder's eyes. The thug moved up close to Howard and said in a low voice, leaving no doubt about his intentions, "It's too bad you won't be around to protect that wife and daughter of yours. It's a shame, but I'll be sure to stop by and check on them from time to time." 
The sadistic grin on that tyrant's face as he was escorted off the base made Howard's blood turn cold.  
 
Two Months Later
The only communication available to non-commissioned sergeants in 1918 Haiti was by letter, and the delay between sending a letter and its response could be up to several weeks. This fact caused Harold undue worry and frustration after Darcy's thinly veiled threat. 
After two months, Harold received a letter from his wife stating that someone had shot their prized mare while it was grazing near the forest's edge. She speculated that it may have been a hunter who mistook it for a deer. 
Harold knew better, and he agonized over the news but could do nothing about it. 
"Maybe," Harold reasoned, "the horse's death was due to an errant hunter. Though, it was far more likely the handiwork of Adder, and, hopefully, this would satisfy his revenge." 
The following letter from home was devastating and left no doubt about Adder's capacity for violence. His 14-year-old daughter, Melissa, had been accosted by a man while walking home from school. Fortunately, she escaped his grasp and ran home relatively unscathed, except for the deep bruises on her arms.
Melissa's description of her assailant fit Darcy right down to the large skull ring he wore on the middle finger of his right hand. Many men and women have felt the bite of that grotesque ring. Harold feared something even worse now as Darcy's appetite for violence knew no end. 
In his letter of response, Harold pleaded with his wife to take Melissa and stay with his brother's family in Charleston, but she refused to abandon the farm. 
A leave for Harold was out of the question. No leaves were permitted unless there was a death in the immediate family. He would have to stay on active duty in Haiti until the end of his service time, another year. 
He mentioned his situation to a lieutenant in his company who spoke Creole and had made a few friends among the local Haitians. Carl told Harold that there was a way that he may be able to "fix" Adder from Haiti. 
Harold didn't understand how that was possible, but he was desperate to protect his family, so he agreed to meet a woman named Camila Baptiste in her back alley shop in Port-au-Prince. 
He told Camila about his plight and concern for his wife and daughter's safety in West Virginia. When he mentioned the attack on his young daughter, Camila's eyes narrowed, and she abruptly ordered Harold to follow her into a secret backroom.  
Camila directed Harold to sit on the couch, asking him what he knew about voodoo. He admitted that he knew little to nothing about it other than it was a form of black magic.  
The Americans had outlawed the practice of voodoo during the occupation, so one had to be very careful. It wouldn't be suitable for a U.S. soldier to get caught anywhere near what was considered by Western religions as sacrilegious practices. 
Camila laughed at this, saying, "Well, we don't think of it as black magic. We consider it a form of religion, originally from Africa", adding, "We think of it as having more practical uses than your beliefs." 
She opened a cabinet in the corner of the room and removed an androgynous clay figure about a foot long. Harold watched as she placed the figure on a small altar and lit a circle of black candles around it. 
The priestess turned to Harold and asked him if he had brought any personal items belonging to the target. Harold reached into his jacket, removed a comb with Adder's hair between the tines, and handed it to Camila. 
She placed the comb alongside the figurine, carefully removed the individual hairs, and, using a candle, burned the strands over the heart of the then-featureless clay doll. 
For the next hour or so, she chanted words Harold did not recognize as French or Creole, possibly an African language. She occasionally turned back to Harold, asking questions about Darcy Adder, his appearance, where he is from, and any other grievances Harold may harbor against him beyond what Harold had already shared. 
Harold nearly swooned at what he witnessed next. Camila ran an intricately carved human rib bone up and down the figure like a blessing of sorts. With each pass of the bone, features began to appear on the face of the doll, truly menacing features. In short order, it went from a lump of clay into something dreadful in seconds.  
"I bet that, like most Westerners, you expected we would stick pins in the doll, yes?" she asked, laughing. Before Harold could reply, she raised her voice and, looking into his eyes, said, "Now, you must do exactly as I say, exactly, do you understand? He shook his head yes and listened intently. 
She went further into the recesses of her backroom and returned with a wooden box covered with strange and intricate symbols on the lid. Then, she very carefully placed the bizarre clay figure into the box. Using an ornate seal stamp, Camila then sealed the box with melted red wax. 
She asked Harold to sit at the table across from her. When both were seated, she said, "Harold, you must find a remote waterfall, one that few visit, but I will tell you the way. Then, and only then, do you remove the doll from the box. You must place it directly under the waterfall. The water will remove the life and vitality of the cursed a little at a time, much like a wasting disease, you understand?" 
"You will not say a word, absolutely nothing," adding, "You will then turn and walk away until you know the curse has neutralized your enemy. Then, and only then, do you return to the doll. Listen well, soldier. You then place the doll back into the box and seal it again. And never, ever, under any circumstances, open that box again." 
Before Harold left, she grabbed his arm and reminded him of the seriousness of the power within the curse.  
"The voodoo doll is like a gun; it is now loaded, cocked, and ready to fire," she said, adding, "Remember, soldier, even when this evil man dies, and he surely will soon enough, his black soul will always reside within the clay figure."  
Harold followed Camila's instructions precisely. 
He sent a letter to a friend, Dan Scott, back in West Virginia, asking him to keep track of Darcy Adder. Harold did not mention the curse to Dan. He only shared with him the attacks by Adder on his family.  
Dan wrote weekly to Harold stating that Adder was working at a sawmill on the Greenbrier River near Hillsboro.  
Dan asked a friend who worked there to monitor Darcy and report any changes he noticed. Darcy was, as reported by The Pocahontas Times in 1914, "A man not well liked among his fellow residents of Pocahontas County," so finding someone to spy on him was not a difficult task. 
It wasn't long before the tone and content of the letters changed dramatically. Darcy Adder was reported to be losing weight and healthy skin tone in the first few letters from Droop Mountain, followed shortly by letters describing a formerly robust and muscular man who was now beginning to look like a starving prisoner of war. 
Doctors attending Darcy felt impotent in offering any effective cure or treatment – his flesh seemed intent on self-destruction. In less than a month, Darcy went from a healthy young man into a skeleton with grayish skin wrapped over his protruding bones. He could not dress or feed himself and could barely speak.  
Darcy Adder soon passed on – a pathetic and hated bully. A few came to his funeral, primarily out of curiosity. He is buried alone in a small out-of-the-way cemetery near present-day Bear-town State Park.  
It would seem that Darcy Adder no longer posed a threat to anyone, yes?
However, fate would challenge that seemingly rational assumption in another 52 years when one Clifton Schumacher raised a numbered paddle to bid on an old Marine footlocker at an estate sale on Droop Mountain. 
The conclusion to the mystery of the wooden box, in next week's edition of The Pocahontas Times. 
Ken Springer 
Ken1949bongo@gmail.com