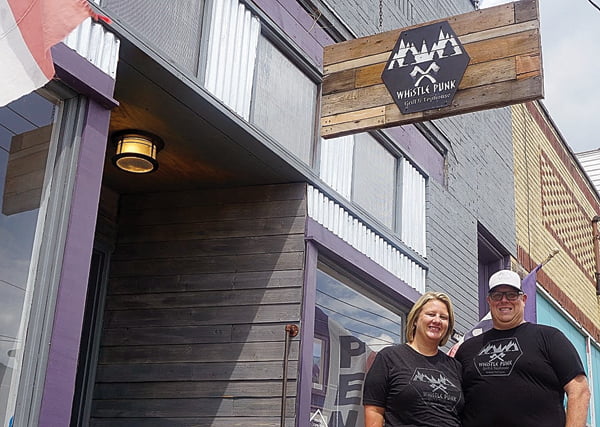 Ken Springer
Contributing Writer
There was a great Filipino bakery on a backstreet of Waiki-ki back in the 80s. I had alighted in this tropical paradise for a few months in 1985 and thought that while there, I would learn to surf. I reckoned that it would be fun to be a surfer bum for a while. Indeed, it was fun, at least until my money ran out.
And to be honest, I was only a slightly better bum than a surfer anyway. I wasn't above buying the "day old" baked goods to sustain my habit of eating. The fragrance of those passion fruit- filled ensaymadas coming out of the oven each morning was cause to abandon my board on the beach and follow my nose straight to the bakery where I surfed the display cases filled with all sorts of exotic pastries.
There was a sign prominently displayed above the entrance door that said, "Those who love food are making the most out of one of life's necessities."
I took that dictum to heart, embracing it with a fervor that took me all over the globe in search of something new to stimulate the taste buds.  Those wonderful little nerve endings that have only one purpose for their entire existence – distinguishing between sweet, sour, salty, bitter, umami and all combinations thereof.
So when I started hearing from friends about this great eating establishment in nearby Richwood, I grabbed two of those friends, Margot and Laura, and all 30,000 of our collective taste buds, and headed over Kennison Mountain in the direction of this storied café.
Forty minutes later, we were parked in front of a colorful plaza with a giant egg-shaped stone sculpture situated dead center. The shadow of the stone egg in the afternoon sun points directly at a large mauve building, and that is where you will find the Whistle Punk Grill and Taphouse.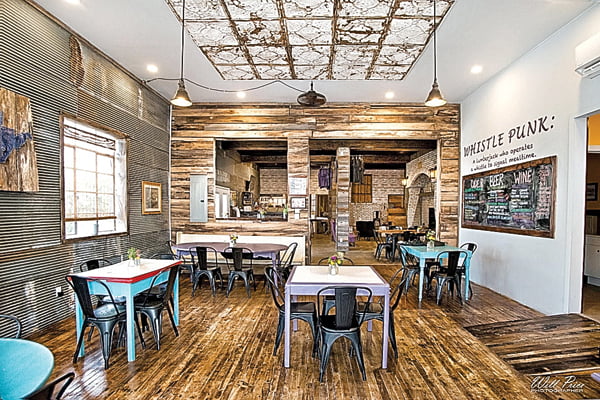 Meet Lance and Stacy Raffo, creators and owners of the Whistle Punk. As great as the conception was, and still is, it was not their original intention to open up a restaurant in Richwood. Far from it. Stacy wanted to return to her hometown to help revitalize the battered community. She and her husband planned to use their unique qualifications for the betterment of Richwood. 
Anyone familiar with the history of this little mountain town situated on the Cherry River knows that it was once a booming logging and coal town with a flourishing business community. Stacy said that she is too young to remember the heydays of the 60s and 70s, but back then Main Street was so busy that, "you couldn't walk down the street because there were so many people."
Our local historian, Ruth Taylor, told me that there was even a clothing store in Richwood in those days that sold New York fashions, and further, that she was a loyal customer. That does not surprise me at all, Ruth is, after all, a stylish lady.
But when the major industries left town, so did the jobs, resulting in a steadily decreasing population. To make matters worse, Richwood was one of the most hard-hit areas in West Virginia's historic 2016 flood.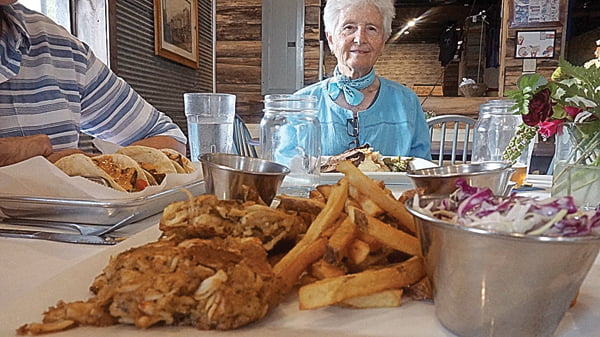 But the residents of this mountain town are resilient and optimistic. Richwood's location as the Gateway to the Monongahela National Forest and its proximity to quality trout streams, whitewater rafting, Nordic skiing and mountain biking offers hope of a revival as an art and outdoor sports center.
The owners of the Whistle Punk met in college where Stacy degreed in Marketing, and Lance in Food and Beverage Management. They were both easily employed at high-end establishments like the Ritz Carlton in Washington D.C., and The Greenbrier and Snowshoe resorts here in West Virginia.
They had the right credentials and motivation to move to Richwood and become a catalyst for the revitalization of Stacy's beloved hometown. So, in 2009 Lance and Stacy, their two daughters, Quinn and Reagan, plus a very friendly cat named Oreo made Richwood their home. They had hope for the future, not only for themselves but for the community.
They began restoration of their building in the fall of 2017 – a two-story wood frame building that housed the Richwood Bakery in 1923 and for many years thereafter.
Originally another party was to open a restaurant in this location but was unable to follow through, so Lance and Stacy made a crucial and spontaneous decision.
"I am not the risk-taker," Stacy said. "Lance is the risk-taker, so we decided to create the restaurant ourselves."
The restaurant creates jobs that are sorely needed in the area. In the period of a year period the restaurant employs some 14 people. As well, their policy of locally sourcing their meat, eggs and vegetables, when possible, is an asset to the community.
"We envision the Whistle Punk being to Richwood what the Purple Fiddle is to Thomas, West Virginia," Stacy added.
Entrepreneurs like Lance and Stacy are often pioneers that set the stage for other businesses to follow in their path. Already, an Appalachian Coffee House and a boutique are planning to set up shop in Richwood.
Lance and Stacy were faced with the prospect of what turned out to be 10 months of pry bars, saws, drills, sheetrock, electricians, plumbers, sawdust, exasperation, and perhaps even a few choice expletives deleted. Reaching way back into time for the correct proverb, "It takes a village," help for this project came from the generous townspeople of Richwood.
As a way of introducing the cuisine they intended to serve at their restaurant, Lance and Stacy hosted a "tasting party" for forty or so of the townsfolk. It evidently went over quite well as they noticed an increase in the number of people coming over to their building to lend a hand with the restoration.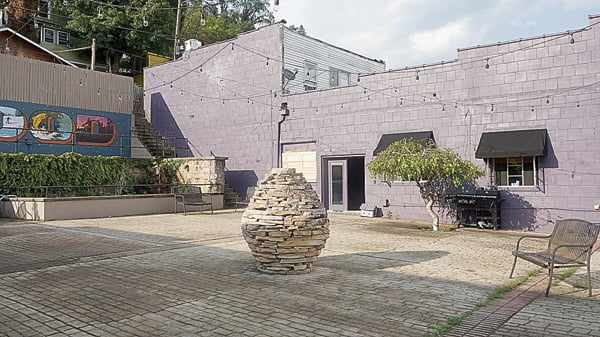 The large, rambling building sat unoccupied for more than 20 years, so much of the interior had to be torn out and rebuilt. The results are stunning. The front of the restaurant is inviting and homey with rough-cut wood at the far end and sheets of corrugated metal on one wall offsetting the warmth of the wood with a slightly industrial look. The center of the ceiling is graced with squares of antique pressed-tin tiles. Customer seating is a colorful arrangement of tables with comfortable chairs.
The bar and lounge area is situated between the café and the kitchen. The wall opposite the polished wooden bar is dominated by a huge white brick fireplace. As I stood in this inviting area, I imagined stopping in with friends after a day of cross-country skiing up in the Glades. The roaring fireplace, the plush couch, and peppermint schnapps – it doesn't get any better than that.
Manning the spacious and well-equipped kitchen (where the magic is performed) are Lance and Chef Libby Nolle. Libby has cooked at Snowshoe and several restaurants in Elkins, in addition to serving as a board member of the Fayette County Farmers Market.
Stacy commented that "Lance and Libby work hand in hand designing new menu items and creating specials."
Considering the size of the menu, the two must have their hands full in the kitchen. There is more to the duties of a chef than just rattling pots and pans. So much depends on accurate anticipation of the number of customers and their selections from the menu. Maintaining a supply of fresh food is a balancing act. Food and supplies must be ordered to meet anticipated needs – but not run short or go too far over.
From all accounts, running a restaurant is not a piece of cake, so to speak. It is hard work with long hours. The old political saw, "If you can't stand the heat, get out of the kitchen" could easily apply to running and working in a restaurant. Be they management, chef or wait staff, these are professionals who should be respected. It's a tough job.
While my friends and I were dining, a couple of young ladies from Nettie came in to have some of the Whistle Punk's popular Chesapeake Bay Crab Dip served with wedges of flat-bread chips. Sydney Cowell and Caylie Snyder told me they are regular customers, and, as it turns out, Caylie supplies the fresh farm eggs to the restaurant.
And that brings us around to the very essence of a restaurant's raison d'exister – the food.
My party of three decided to select items broadly throughout the menu rather than just the popular items, although I could not resist the impulse to sample those crab cakes I had been hearing so much about.  
Margot chose the London Broil – strips of marinated and broiled beef over homemade mashed potatoes. The vegetable here was not merely a garnish – but rather a stack of firm but tender stalks of asparagus grilled to perfection. I was permitted to sample the mashed potatoes. Yep, they were definitely homemade. And Margot is now a member in good standing with the Richwood Clean Plate Club.
Laura, true to her Texas predilections, went for something a bit more picante – the fish tacos. I was the recipient of one of the trio of tacos that arrive at the table in their own stand.
Fish tacos are not an easy dish to make properly, but these were delicious and spicy. The choice of using Mahi Mahi resulted in a mild-tasting fish with lots of flavor and keeping appropriate company with cheese and a crunchy dry slaw. These ingredients were topped with chipotle mayo and nestled in a soft corn tortilla. The beer menu offered a lot of options for pairing with the fish tacos.
As for my crab cake dinner, I can state, without reservation, that you can now get crab cakes here in southern West Virginia that are as good as you will find in any of the crab joints that line the shores of Chesapeake Bay. The batter was at a minimum and the chunks of blue crab meat were literally poking out of the sides of the cakes. The two large crab cakes were accompanied with French fries and coleslaw.
In my experience, coleslaw can be sublime, or a lukewarm milky mess of limp cabbage. This side was served in a separate metal dish that was likely chilled to protect its delicate constitution from the heat of the crab cakes and fries. The strips of red and green cabbage were cold and crunchy – sublime!
Well, I guess that about sums it up although I did have one more question for Stacy and Lance before heading back over the mountain to Pocahontas County.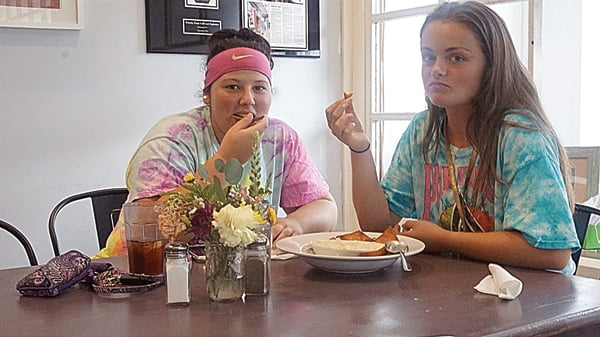 Having a restaurant in Richwood carries with it certain obligations concerning a wild plant in the onion family.
Richwood is home to the Feast of the Ramson, often called the granddaddy of all Appalachian ramp feeds. The ramp is royalty in these parts, and there are very few folks who don't consider eating ramps a necessary rite of spring. So, I asked Lance and Stacy how their restaurant pays proper homage to the Allium tricoccum.
Stacy said that they offer several ramp dishes in the season, including a ramp risotto, a ramp crab dip, a coffee-rubbed filet of beef with ramp chimichurri, and a pork-belly taco with ramp kimchi. I would say they have gone above and beyond the call of duty to our beloved ramp.
Oh, Wait a minute! There is one item that I forgot to ask about – what the heck is a Whistle Punk?
Oh well, guess you'll have to go there and ask them yourself. And if you go there – go hungry. They don't skimp on the portions.
Happy hiking and dining,
Ken Springer
The Watoga Trail Report
The Whistle Punk Grill and Taphouse is located at 35E Main Street in Richwood.
Their hours are 11 a.m. to 9 p.m.
Phone, 304-846-2020.
For more information visit their Facebook page at facebook.com/whistle.punk.richwood/