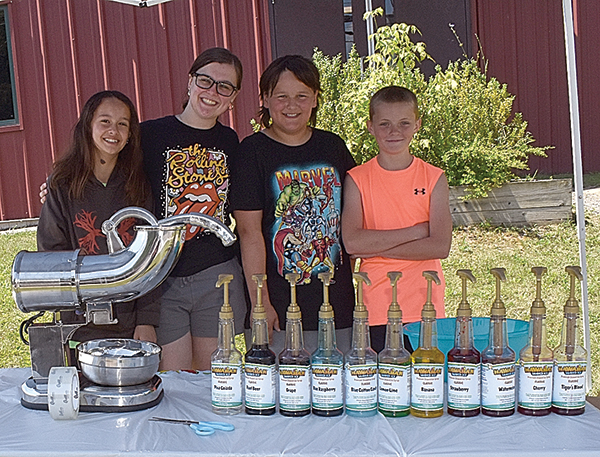 Suzanne Stewart
Staff Writer
With the summer heat beating down on the town of Marlinton, residents are on the lookout for ways to keep cool. Youngsters are making good use of the splash pad at the Discovery Junction and now, there is a sweet and cool treat available at the Community Wellness Center each Wednesday.
Young members of the center, with the supervision of Emmalee Dean, are making Snowballs – crushed ice treats with a variety of flavors.
Dean explained that Parks and Rec Director Lauren Bennett has been bouncing the idea around for years and, this year, they found a group of kids who were interested in making the sweet treats to raise money for local organizations.
"Lauren bought the equipment and donated it for the program," she said. "I took this on while I'm home for the summer and different kids have stepped up to help out each week."
The first week benefited the Family Resource Network and the group raised $66 with their treats.
The second week, the kids chose to help the Pocahontas County Animal Shelter, and contributed $248.68.
Katherine Canoy, Liam Burdette and Brantley Moore served the Snowballs to passersby and said they were happy to help organizations in the county that do a lot for the community.
The group sells Snowballs at the curb in front of the Wellness Center each Wednesday, from noon to 3 p.m.