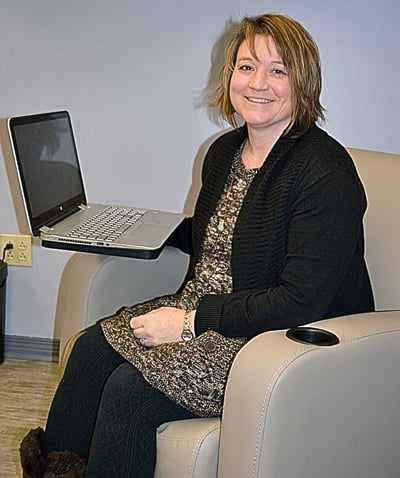 Suzanne Stewart
Staff Writer
There is a boom of young entrepreneurs and small businesses coming to West Virginia to help grow the economy, and the West Virginia Hive Network is here to help.
The Hive, headquartered in Beckley, has representatives assisting businesses in 12 counties, including Pocahontas. The Appalachian Regional Commission [ARC] has provided the Hive with grants to help these new businesses.
Hillsboro native Ruthana McNeel Beezley, who returned to the county in 2017, is a senior business advisor at the Hive and travels around the 12 counties to guide businesses in the right direction.
"We believe that entrepreneurs and small businesses are the key to what's next for West Virginia," she said. "We have business advice, as well as one-on-one services where we just talk about where they are, where they want to go, how we can help them get there and then we have technical assistance funds that we use to pay vendors on their behalf with start-up monies."
Beezley explained that the Hive does not give capital to businesses, but it is able to give financial assistance for marketing, inventory and other large hurdles to help business owners save money for the bigger things, like structure and employees.
The Hive also has equipment which allows inventors to make mockups of their products at its office on the West Virginia University Institute of Technology campus.
"It has some maker spaces and some innovation labs with coding centers and a number of different kinds of labs accessible to all our clients, no matter where they live – they just have to go to Beckley for that," Beezley said. "It's a bit of a haul sometimes, but if you really just need to try a 3D printer and don't have access to one, it's not horrible to go that far to check out."
Businesses and entrepreneurs are also welcome to attend workshops and training provided by the Hive.
The Hive was founded in 2016 and is slowly expanding its staff to better assist the 12-county area it serves.
"It's a big territory," Beezley said. "I wish there were more of us – one per county. I have clients all over the twelve counties, but primarily, my focus is supposed to be on the Greenbrier Valley – so Pocahontas, Greenbrier, Monroe and Summers counties."
When she is in Pocahontas County, Beezley sets up her mobile office at the Almost Local Business Hub on Main Street in Marlinton where she is able to video conference, email and phone clients, as well as meet with them face-to-face.
"I'd love to see more Pocahontas County businesses take advantage because I know there are ideas out there," she said. "Those are the folks that we really want to reach – those people who are just thinking 'I want to do this, but I'm not sure how.' We want to help them figure out how or go through the process and at the end help them figure out, 'well maybe I don't want to invest my life savings in that,' and that's also a win."
The target "audience" of the Hive are start-ups or individuals with ideas for a new business who need help getting on their feet, as well as businesses that are looking to expand.
"We really target start-ups, folks with – the term is ideation in the industry – which means they have an idea and they don't really know what to do with it."
Beezley enjoys helping people build their businesses and ideas, and hopes to expand on the number of clients she has.
"It's fun for me because I get to do lots of different kinds of things," she said. "We've helped with new products, helping people patent, so we can figure out how to sell and manufacture those, and all that fun stuff. I thought it was a good choice for me."
Beezley rotates her time between Marlinton, Lewisburg, Hinton, Beckley and Montgomery. She will be at the Hub in Marlinton the second Monday of each month to meet with current clients as well as those interested in the programs offered by the Hive.
Beezley may be contacted at rbeezley@nrgrda.org or 304-545-4764
For more information on the Hive, visit www.wvhive.com