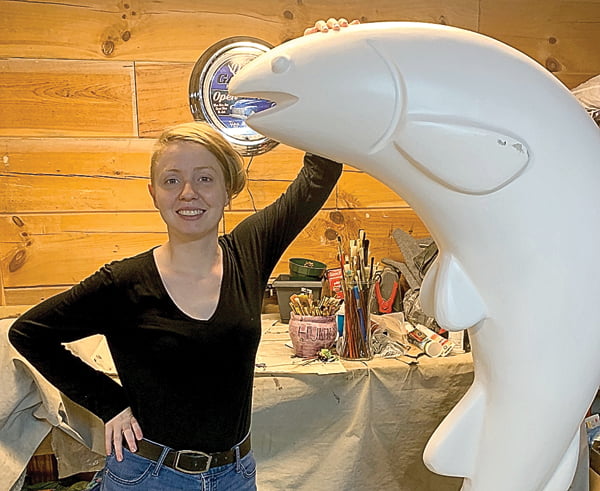 Laura Dean Bennett
Staff Writer
Green Bank resident Rebekah Anderson may have been born in Tennessee, but she'll tell you that she's a West Virginian through and through.
The Anderson family moved to Green Bank when she and her twin brother, Matthew, were six years old.
"I still have family and friends in Tennessee, but West Virginia is really my home," Anderson said.
She and her family came to Pocahontas County 17 years ago, when her father, Bob Anderson, accepted a position at the Green Bank Observatory.
He's the Head of Operations and Chief Mechanical Engineer.
Her mother, Marsha Anderson, has been a purchasing agent at the observatory for 11 years.
Anderson graduated from Pocahontas County High School in 2016 and recently graduated from Carson-Newman University in Jefferson City, Tennessee, with a Bachelor of Arts degree in Art.  
In 2016, she began working as a seasonal tour guide at the observatory. After graduating from college, and pre-pandemic, she's been a permanent, year-round tour guide. She is also beginning to come into her own as a professional artist.
Anderson recently took on the challenge of painting the Green Bank Observatory's Bicentennial Trout, which will be permanently installed on the observatory grounds as part of Pocahontas County's bicentennial celebration.
The six-foot tall fiberglass trout sculpture will be painted to evoke both the timeless beauty of the Greenbrier River and the mysteries of space – no small feat, but one which Anderson is approaching with confidence.
After all, she painted a panorama depicting, appropriately enough, space themes, for the observatory last year, which she entitled, "Use Your Imagination."
Astronauts, a solar system, galaxies and an image of Voyager 1 play across the immense mural that graces the walls of the exhibit hall in the Science Center.
"It was sixty-four feet wide by five feet, three inches tall and was painted about ten to twelve feet off above the floor," Anderson recalled.
"I had to stand on scaffolding to paint it and, it being the first time I'd been up on scaffolding, it was a really interesting experience.
"Before I could even get up on the scaffold, I had to go through some training to learn how to work on it.
"At first, it was a little bit scary – the scaffolding would shake a little bit. But once I got used to it, it was a breeze." 
My guess would be that this won't be Anderson's last time up on scaffolding, as she's already done a few other small murals and is bound to be commissioned to do more mural work as her career continues.
Like all of the artists chosen by the bicentennial committee to paint the commemorative trout installations, Anderson will receive an $800 stipend for the work.
"I painted the observatory mural as an employee of the observatory, and it was, by far, the largest project I've ever done, but this commission to paint the bicentennial trout is my first really professional, public commission," she explained.
"And I'm so excited and honored to be doing it."
The second largest mural work she's done was painting a mural on the walls of a church study in Knoxville, Tennessee.
"It was a camp scene – a woodland scene," Anderson said.
Each Pocahontas County bicentennial trout installation will represent one of the eight rivers which give our county its moniker – "The Birthplace of Rivers."
The trout sculpture being sponsored by the Green Bank Observatory will represent the Greenbrier River.
"When Mike Holstine told me I might want to apply for the job of painting a bicentennial trout for installation at the observatory, and that it would represent the Greenbrier River, I immediately began to think of how I would combine images of the Greenbrier River with images that come to mind when I think of the observatory," Anderson recalled.
"I've been fishing in the pond behind our house, but I've never fished in the river and never caught a trout.
"I looked them up right away and studied pictures of them.
"As it happens, I'd taken a long walk along the Greenbrier River just last fall and taken some pictures of the river.
"Although I've lived in West Virginia most of my life, I'd never walked on the Greenbrier River Trail until last fall.
"Of course, the Greenbrier River is just beautiful.
"I'll definitely be calling on those memories and images as I paint the trout," she added.
With the Covid-19 precautions having imposed restrictions on visitors at the observatory, Anderson has had time to work on her art these last few months.
She will submit her final trout design this week to GBO director Karen O'Neil and business manager Holstine and it will be reviewed by the Pocahontas County Bicentennial Committee before she begins her work.
"This will be a new experience for me," she said. "I've never painted on fiberglass before. I plan to use acrylic paint and I want to use a lot of air brush work.
"On the side of the trout, I'll paint an image of the river, and, you know how rainbow trout and brook trout have those pinkish stripes along their sides?
"I want to replace those streaks with streaks of white to depict the Milky Way.
"And the spots that trout have, I want to paint as stars.
"With any painting that I do, I've come to realize that I like to have a plan of what I want to do, but sometimes along the way, things happen.
"You have to be able to creatively problem solve and the painting will tell you want it wants to do.
"Things will just come together and you'll say, 'Gee, I hadn't thought of that!' Anderson smiled.
At least, there'll be no need to worry about shaking scaffolding for this project.
"The trout sculpture stands about 6 feet tall, so I'll just have to use a step stool," she said.
After she gets the go-ahead on her final design, Anderson will begin actually painting her trout, which, at this stage, is a blank slate- a fiberglass fish form without much personality.
But soon, that will all change.
"I don't have a name for the trout yet, but I expect I'll come up with one as I start working on it and get to know it a little better," she said, playfully.
The trout is situated in the garage at Anderson's home, waiting patiently for the artist to begin transforming it into a work of art.
"The vision of our local artists is remarkable," Holstine said.
"We chose Rebekah, not only for the vision she had about the observatory, but because she seemed to capture the feeling we hope to invoke in the spirit of the trout, its relationship to the county and the bicentennial.  
"We think it will be an awesome, and much photographed, piece."