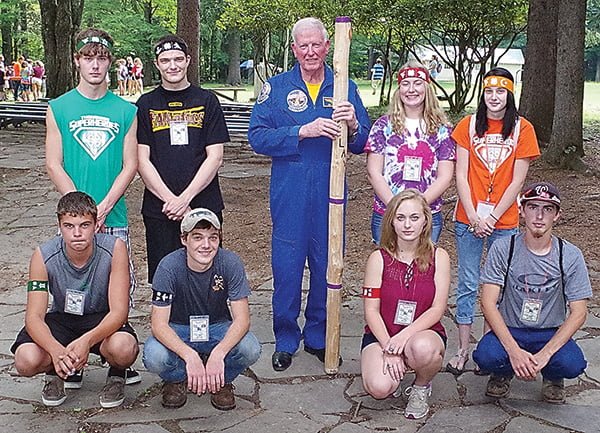 Connie Burns
WVU Extension
Nearly 90 youth attended this year's adventure themed Pocahontas County 4-H Camp at Camp Thornwood during the week of July 17-21. 
Chiefs and Sagamores of the tribes were: Cherokee Tribe – Sabrina Ryder, Austin Sharp; Delaware Tribe – Clay Friel, Logan Burks; Mingo Tribe – Katie Gibson, Kaitlyn Lester; Seneca Tribe – Kyle Lester, Kolton Alderman; Big Feet – Cathy Mitchell, Bob Simmons.
"The Great 4-H Adventure" was this year's theme.  Campers were welcomed Monday evening as they arrived. 
Tuesday afternoon they learned wilderness survival skills including how to tie knots, make arrowheads, read a compass, build a fire and shelter, leave no trace behind, make healthy snacks and identify wild edibles.  That evening tribes competed in a Survival Skills Challenge. 
On Wednesday, campers were treated to a very special visit from Astronaut Jon McBride from Kennedy Space Center in Florida. 
A West Virginia native, McBride encouraged the young people to do their best in school and work hard to achieve their goals.  He presented a slide show that highlighted his career and shared stories of what he encountered in his space travels.  The fun continued that evening as campers solved clues in a Search for Bigfoot. 
Wild World of Animals provided a variety of animals, birds, and reptiles to delight the 4-Hers Thursday afternoon. That night campers snacked on homemade pizza as they danced to music provided by The Party Factory. 
Campers enjoyed a slideshow and received tribal colored T-shirts for the annual camp photos Friday. Council Circle rounded out each evening and was a highlight for many campers.
The campers participated in a variety of morning classes, including Adventures in Gardening, Air Rifles, Archery, Basketball, Black Powder Basics, Board Games, Bottle Rockets,  Bubble Bubble Toil and Trouble, Charting/Pre-Charting, Cupcake Decorating, Fishing, Fitness 4 Fun, Fleece Blankets, Folk Dancing, 4-H is Awesome, Frisbee Golf, Get Cookin', Jigsaw Puzzles, Jumpin' and Dreamin', Lego Robotics, Nature Walking, Outdoor Cooking, Pottery, Rustic Twig Picture Frame, Shotgun, Softball, Spa Time, String Art, String Wrapped Earbuds, Switched on Science, The Great Food Adventure, There's no "I" in Team, Tie-Dye Party, Wilderness Survival Basics and Wildlife Tracking/ID.
Camp awards were presented to 4-Hers during the final council circle Friday night.  
Logan Burks was selected as this year's "Spirit of Camp" and was presented the spirit stick, which was carved and painted by each of the tribes during camp. 
The following campers were chosen as those best representing the four Hs of 4-H at camp: Head H – Lorena Rose; Heart H – Clay Friel; Hands H – Stephen Simmons; Health H – Kyle Lester.
Kevin Bennett was awarded his 4-H Pin for successfully completing the 4-H Charting project and classes.
Outstanding first year camper scholarships were presented to Addisyn Waddell and Gary Warner.  The Cool Camper Scholarship was presented to Hannah Burks.  Justin Jackson received the Harold Carpenter Scholarship.  The Bee Gladwell Scholarship was presented to Kyle Lester.  Savannah Ignos, T. D. Sparks, and Hunter Cheek received the Shooting Sports Scholarships.
Eight first year campers receiving "lucky penny" awards were Colton Cover, Luke Gainer, Mallori McCoy, Wade Taylor, Addisyn Waddell, Adelyn Warner, Gary Warner and Maybelle Warner.
Tribes were judged throughout the week based on camp spirit, sportsmanship, attitude, and how they exhibited the four Hs.  The Seneca Tribe was selected as the overall winning tribe.  
Camp staff and class instructors for the week were:  Shirley Wilkins, Greg Hamons, and Connie Burns (Extension Staff); Bekah Dunaway, Drew Strader (ECIs); Jacqueline Costello (STEM Ambassador), Julie Gibson, Kathy Irvine, Pam McLaughlin, Cathy Mitchell, Heather Simmons, Kristie Smith, Tracey Valach, Susan Wilkins, Gray Beverage, J. W. Cheek, Randy Irvine, Aaron Pugh, Josh Shinaberry, Bob Simmons, Michael Simmons, Sherman Taylor, Arlene Cheek, Matthew Barkley, Lauren Bennett, Lee Brown, Kari Cooper, Nick Cooper, Cynthia Gurreri, Kristen LeCroy, David Moore, and Brian Smith.  Kitchen staff included Doris Arthur, Sarah Hedrick, Barbara Shinaberry, and Kay Wiley. Freddie Greer and Carl Greathouse served as Camp Caretakers.