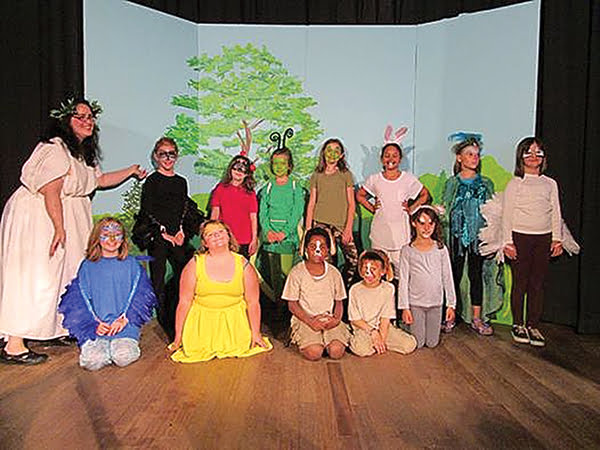 Laura Dean Bennett
Staff Writer
The Marlinton Kids After-School Club presented its debut performance Friday evening at the Pocahontas County Opera House.
The program was sponsored by Pocahontas County Parks and Recreation and the Pocahontas County Opera House with scholarship funds provided by the Family Resource Network.
Margaret Baker started the original Drama Playhouse program.
The students rehearsed once a week for the past two months to prepare for The Fables of Aesop.
The play is based on a selection of famous Greek fables by the ancient storyteller.
Opera House VISTA Ms. Charlie MacGhee Hughes wrote the play, which was an adaptation from The Aesop Fables for Children.
The play featured such famous tales as The Lion and the Mouse, The Ant and the Grasshopper and The Tortoise and the Hare.
The 13-member cast included Alexis Arbogast, Eli Beezley, Oliver Campbell, Penelope Campbell, Serenity Cochran, Molly Cook, Ramona Hardy, Willa Hardy, Maddy Landis, Asa Marks, Sal Marks, Kaylee Pritt and narrator, only adult performer and the play's director Hughes.
Rehearsals included the study of character development, stage direction, improvisation, ensemble, voice  work and movement skills.
Besides learning their lines and their entrances and exits, the drama company had lots of fun as  they worked on their confidence, creativity and cooperation. Appreciation was expressed to Hillsboro Elementary School for allowing its actors to leave school  early for rehearsals and to the actors' families who took students to and from rehearsals and supported their children in learning their lines. 
Loretta Kelley did an excellent job with animal makeup. Kristi Hamons provided assistance with lighting and set design, and many other volunteers contributed to making the play a resounding success.
Laura Dean Bennett may be contacted at ldb@pocahontastimes.com