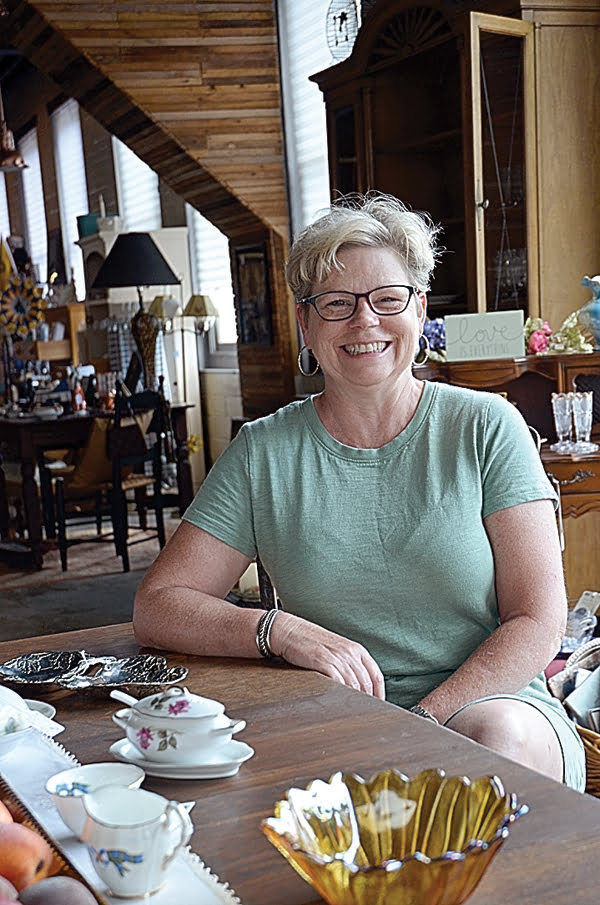 Laura Dean Bennett
Staff Writer
 
When The Cackling Hens first opened on Main Street in December 2016, there were two hens operating the re-sale/consignment shop – Brenda Miller and Leslie McLaughlin.
Miller and McLaughlin met when they were both working in Dr. Soriano's office – Miller as receptionist and McLaughlin as an LPN.
When Miller eventually left to "take a real job with benefits," McLaughlin kept pecking away, and now, she's spread her wings.
The new coop is located on Third Avenue right across from City National Bank and next door to the Opera House, and it comes with plenty of free-ranging space.
It may be a new location, but it's still the hens' house – filled with treasures and intriguing each customer as they enter.
A lady steps through the door and looks around admiringly for a moment before approaching McLaughlin.
"Just answer me one question," she begins. "How did you get all of this in your other shop?"
It's not a bad question. 
The building she's leasing now – the former home of the DirtBean – just feels so much larger, and it's already furnished with a variety of beautiful things.
"Well," McLaughlin said, "for a long time I thought I had plenty of room. After all, we had three rooms filled with inventory – about 1,200 square feet.
"But we were getting a little crowded. This shop is about twice that size.
"And I really love the way everything's coming together in here.  We have so much more display area. We can really spread out. Customers can walk around and see things so much more easily," she added.
The new roost may not feature any real-live chickens, but there's still a lot to crow about.
Everywhere one looks there's something interesting to study – something pretty to catch the eye.
The shop has a lived-in, homey feeling. 
"I like older, vintage things – a lot of antiques," McLaughlin said. "I try to find the unique and different – things with a little bit of character.
"I love old metal – wrought iron and cast iron, and I really like furniture.
"I expect I'll have more furniture in here now that I have the room for it.
"I'm partial to oak," she said, as I admired the beautiful oak dining table on display in the front of the shop.
"And I love Depression-era furniture, vintage table cloths and glassware," she said. 
"I like birds and Roseville pottery. There's usually some of that here."
There's a gorgeous antique covered cheese dish, a Hoosier cabinet and a rack featuring a few specialty items of clothing.
The space still has lots of room, but it seems there will never come a time when there won't be more treasures on the way.
"I go to sales and auctions all the time," McLaughlin said. "I do buyouts, and I even shop online.
"I'd rather do buyouts than consignments – it's just simpler. So I own most everything here, although there is some merchandise from a few consigners."
 
"Usually, I'll travel about a couple of hours away from home. There are lots of trips to Lexington, Harrisonburg, Staunton and Buchanan. 
"And whenever I visit my parents, I'll always bring something home," she added.
McLaughlin grew up in farm country, in Tioga, Pennsylvania – about 20-to-30 miles from Corning, New York – where her mom and dad, John and Sheila Kilmer, still live.
"My mom and dad have a lot of beautiful things," McLaughlin said fondly. "Sometimes I find things in their house that they're willing to part with.
"Dad's a real pack rat, so there's always something worth finding there. I just have to persuade them to let me have it," she said with a smile.
Leslie and her husband, Roger McLaughlin, a heavy equipment operator, live on Knapps Creek between Minnehaha Springs and Frost. 
Their home is furnished in what McLaughlin calls flea market chic.
"My dream décor would actually be more Shaker style – very simple and clean," she laughed.
"Roger's really my right-hand-man. He's the best helper I could ever have.  Whenever he's not working, he's helping me.
"I couldn't do this without him," she said earnestly.
"He likes to go junkin' and searching for interesting items with me."
Leslie met Roger when they were both working for Daniel's Construction in Ogden, Utah.
"We decided to get married, and he dragged me back here to Pocahontas County where he grew up," McLaughlin laughed.
"You know what they say about West Virginia boys.
"They may leave for a while, but they always come home.
"But, he didn't really have to drag me. I loved it here right away. 
"I was a country girl, so I felt right at home."
McLaughlin said she enjoys visiting with everyone who comes into the shop.
"And I get to play around with beautiful things," she added.
If a customer is looking for something in particular, McLaughlin will try to find it. 
In a business like McLaughlin's, there's always the need to store a few things.
The back of the new location is perfect for that and for doing touch-ups and repairs.
That is where McLaughlin's friend, Jane Poundstone-Sharp, comes in.
She helps McLaughlin turn old and used into refurbished and ready for a new home. 
"Jane is so handy!" McLaughlin said.
"She's an excellent seamstress, and she's so creative. she can fix anything. She really knows her way around a screwdriver."
Tom Shipley from Sharp's Country Store strolls in and takes a tour around the shop.
"I like to come in and look around," he said.
"Leslie's always got good stuff – she has a good eye."
Although COVID-19 did ruffle The Cackling Hens' feathers, apparently, you can't keep a good hen down.
"I closed down the shop on March 18 and re-opened May 13, so you could say the virus affected me momentarily," McLaughlin said.
"But we're back now, and business is good. 
"I love my job.
"I could spend 12 hours a day here.
"I walk into the shop in the morning and say, 'Thank you, God. I am so grateful I get to come to work here!'"
The Cackling Hens is open Wednesday – Saturday 10 a.m. to 5 p.m.