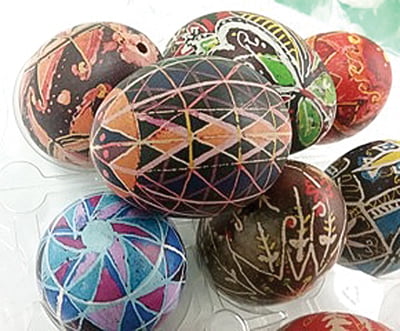 Laura Dean Bennett
Staff Writer
The art of decorating eggs for Easter is a venerable tradition in many cultures.
Some of the oldest egg decorating techniques come from the ancient Ukrainian Greek Orthodox tradition of egg decorating called pysankey.
Archaeologists have discovered fragments of pysanka made from chicken and goose eggs dating back to the 15th and 16th centuries.
The making of pysankey eggs is still a traditional folk art popular among Ukranian women.
According to Ukrainia tradition, the process of pysanky writing started on the first day of Holy Week.
People believed eggs used for pysanky should be fertilized so they would bring wealth and fertility to the family.
The women would make their pysanka at night, keeping their family patterns and color combinations a closely-guarded secret.
Many believed that pysan-key would turn out perfectly if the eggs were decorated only after all other members of family were asleep.
The symbols and colors used in pysankey are rich in meaning.
Pysankey involves a long process that includes choosing a design and outlining it on the eggs.
Then the egg is covered in a layer of wax.
The method is similar to batik painting.
The patterns are drawn on the egg and coated with wax, which protects the covered areas from the dye that is applied.
By repeating this process with different colors of dye, a multi-colored pattern is built up.
Finally, the wax is removed to reveal the colors that were covered up at each stage.
Sometimes small portions of the design are done by hand in another color and waxed over before adding the egg to the next dye bath.
It takes time.
Depending upon the intricacy of the design, an egg can take an hour and a half to two hours or sometimes, many more hours to complete, depending on how detailed the artist's pattern will be.
Cynthia Gurerri, President of the Pocahontas County Arts Council, has been giving classes in pysankey egg decorating for the last several weeks at the council's new studio in Marlinton.
The last class of the season will be held on April 18 at the Durbin Art Center at 5 p.m.
Anyone with questions about the many art classes available through the Pocahontas County Arts Council may call 304-456-4600.