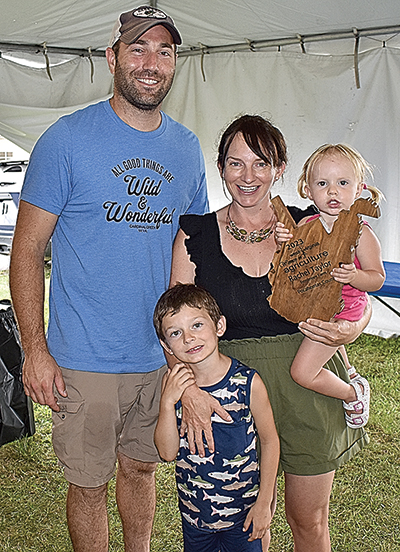 Suzanne Stewart
Staff Writer
Since 2010, the West Virginia Department of Agriculture has honored women who are in the agriculture field – as farm owners or those who make a career in agriculture businesses and organizations.
Those selected as honorees are named Women in Agriculture and are honored at a ceremony at the West Virginia State Fair in Lewisburg.
Frostmore Farms co-owner Rachel Taylor was one of three women to receive the award this year.
At Sunday's ceremony, West Virginia Agriculture Commissioner Kent Leonhardt congratulated the women and spoke about how the agriculture industry continues to grow and prosper in the state.
"I'm proud to report that agriculture in West Virginia is growing," he said. "We're opposite the trends. This week was Farmers Market Week, and they talked about how farmers markets have grown nationally, but West Virginia has outpaced the national growth."
Part of the reason agriculture is growing is the number of women who are making careers in the industry.
"I've said it every year, thirty percent of the agriculture workforce in West Virginia is women," Leonhardt said. "That's significant, and it's very important. We know the men that are in the workforce – a lot of times – there's a woman behind them, and they don't get the same recognition.
"Women play a lot bigger role than people really realize in our agriculture."
Department of Agriculture deputy director of communications Jennifer Smith Poling introduced each honoree and shared that, while Taylor was not born and raised on a farm, her love of agriculture has led her, and her husband, Adam, to found and grow their own called Frostmore Farms.
"In 2009, she became co-owner of Frostmore Farms," Poling said. "The farms are split between Dunmore, where she operates a 267-acre maple operation and a forty acre farm in Arbovale that includes you-pick blueberries, raspberries, pumpkins and sunflower patches."
In 2013, the Taylors turned their hobby of making maple syrup into a small business and have become one of the most successful maple producers in the state. The Taylors attended Cornell University Maple Camp to learn more about the industry, and Rachel also serves as secretary of the West Virginia Maple Producers Association.
"Rachel's recipe for success – equal parts hard work, education and research, good mentors and support system, and a dash of good luck," Poling said.
Taylor received a plaque shaped like the state of West Virginia, a barn quilt square of a maple leaf and an invitation from the West Virginia University Extension Service to attend the West Virginia Women in Ag Con- ference.
"When you think about farming and agriculture, you think about basic things like cows and pigs and animals – and just learning all the different things that agriculture is has been amazing and so vast," Taylor said. "Just so much to learn and all of it is super interesting.
"It's been a really wonderful journey getting into agriculture and the friends that we've met, and the mentors – everybody has been so helpful," she continued. "It's been a wonderful experience thus far, and I'm really glad to be able to raise my family and bring up my children in an agriculture environment."
Taylor was joined at the ceremony by her husband, Adam, children, Bryce and Camryn, and parents, John and Alesia Wayne.
Also receiving the honor were Cristy L. Jones, of the USDA Farm Service Agency in Raleigh County, and Marsha Waybright, of Laurel Fork Farm, Laurel River Club Bed and Breakfast and West Virginia School of Traditional Skills in Tucker and Randolph counties.