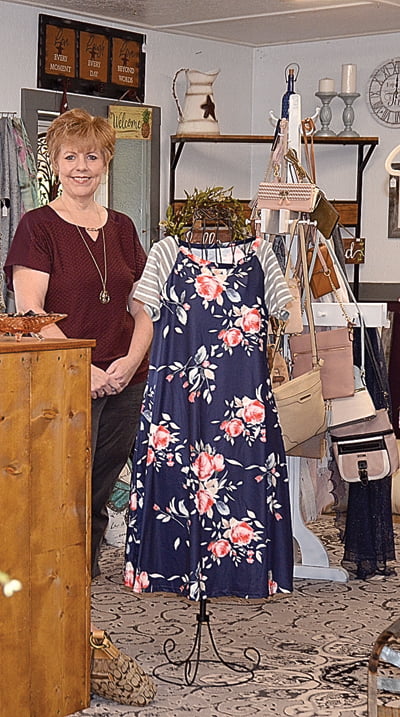 Laura Dean Bennett
Staff Writer
There is a new business in town – Tattered Rose Boutique.
It's located in the building with Legacy Designs, just north of Pocahontas IGA.
How did owner Lisa Galford come up with the name "Tattered Rose?"
"Well, 'Tattered' came from the fact that I'm not as youthful as I once was," she explained, "and 'Rose' comes from the name my childhood friends used to call me.
"They called me Rose, because my maiden name was Rosencrance.
"Several people told me they had the impression, from the name, that the shop would be a consignment or used item shop – but it's not.
"Everything in here is new, except a lovely old quilt I brought from home. It's here looking for a new home.
"But everything else is new," she said, laughing.
Galford is originally from Elkins, but she's made her home here in Pocahontas County for the past 12 years.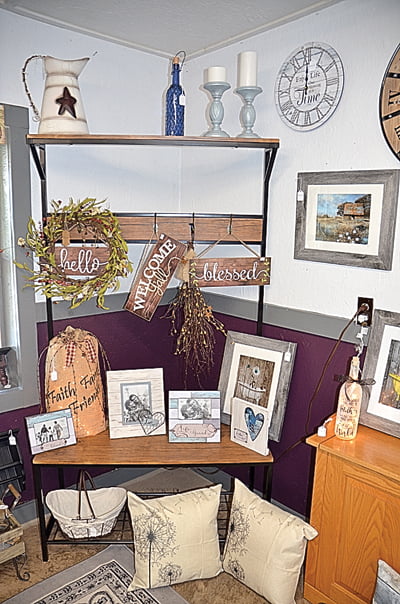 She and her husband, Mike, live in Onoto Hills.
She worked for Mitchell Chevrolet for eight years, doing title and accounting work and vehicle inventory.
"Mitchell's was really a good place to work," Galford said. "But I've wanted to have my own store all my life.
"I decided it was now or never. So here I am."
The Tattered Rose Boutique has a cozy feel with its homey décor and witty gift ideas artfully displayed along with a variety of clothing, scarves, purses and hats.
The boutique opened April 15.
"People have been so welcoming to me," Galford said.
Ashley Diller and her mother, Sheila Cutlip, operate the salon, Legacy Designs, which shares space with the new boutique.
"Ashley and Sheila are great to work with," Galford said.
"It's really a fun environment in here."
Looking around the shop, one's eye is immediately drawn to the pretty silk flower arrangements settled in rustic pails and charming baskets – all put together by Galford herself.
The unusual pink rose arrangement sitting on her front counter is really special. It's made of carved wooden rose buds.
The artificial flower arrangements range in price from $15 to $40.
"If you don't see what you like, and would like me to put together an arrangement in certain flowers or colors for you, I'd be happy to do it," Galford said.
"If customers come in with a budget in mind, I will be happy to work with them.
"Just tell me what you want, and I can put it together.
"I've already done a few custom arrangements."
There are wreaths, wall decorations, plaques and mugs, candles, cutting boards and picture frames.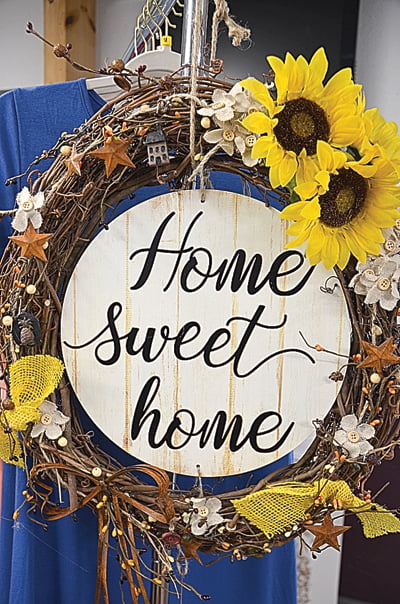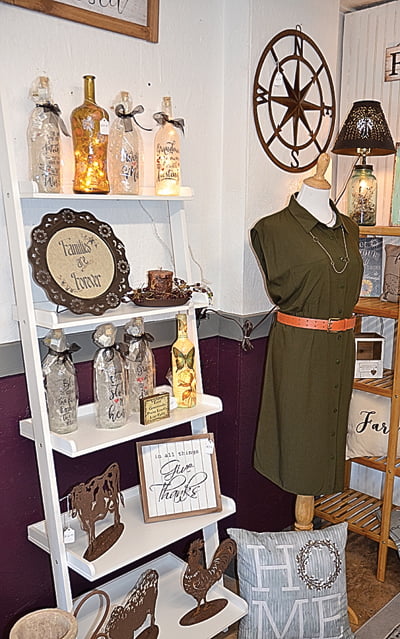 Mother's Day presents abound – and there are even some charming items for grandmothers, too.
There are racks of ladies clothing, jewelry, handbags.
Most clothing prices are in the $15 to $30 range.
The shop carries some of the "Mountain Mama" clothing line – stretchy leggings in sizes S-2X.
You'll find a wide color selection of capri pants, summer clothes and some blouses suitable for the office.
Galford also has a selection of "Silver Forest" earrings.
There are unusual and witty ball caps and some very nice West Virginia themed merchandise, as well.
And beautifully printed gift certificates are available.
The shop is open Monday through Friday from 10 a.m. to 6 p.m. and Saturdays from 10 a.m. until 2 p.m.
Galford seems to have just what's needed in a business like this – a talent for making people feel right at home.
"I want people to feel welcome to come in," she said.
"They can come in here and have a good time, even if they don't buy anything.
"Just sit around and chat with us," she added with a smile.
Visit the Tattered Rose Boutique at 18884 Seneca Trail, call 304-704-8850 or visit the Facebook page or send a message to tatteredroseboutique52@gmail.com