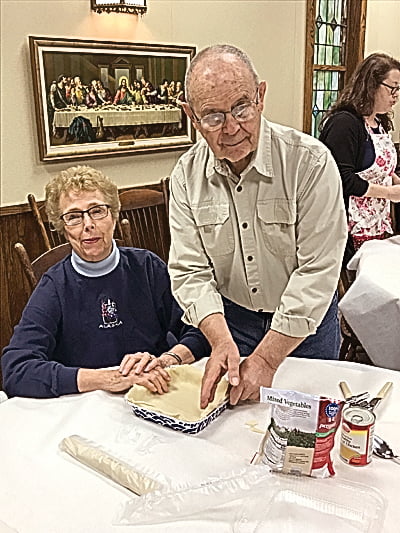 Susan Wilkins
Public Relations and Special Projects Coordinator
 
The first-ever Sweet Life Diabetes Cooking Class held a reunion and three month follow-up February 4 at the Marlinton Presbyterian Church.
Diabetes is a common, serious and costly disease.  Luckily, many complications of diabetes can be controlled and even prevented by making lifestyle changes.  Pocahontas Memorial Hospital's Sweet Life program helps people make these lifestyle changes through clinical testing, nutrition information, recipe demonstrations, exercise and group support.
The reunion was a fun evening with a presentation on making convenient foods healthy and nutritious.  All participants moved from the classroom setting to a hands-on session to make a take-home, freezer-ready chicken pot pie out of convenient items.
Afterwards, participants, PMH staff and volunteers enjoyed a delicious pot pie and salad dinner which had been prepared for the occasion.
Upon completing the program, attendees report better eating and cooking habits, as well as improved A1C numbers and blood pressures. 
Sweet Life is presented by Pocahontas Memorial Hospital, through grant funding from the Snowshoe Foundation.
PMH has long offered cooking classes with other agencies, but class numbers had drastically dwindled. In 2018, PMH completely revamped the program with a new format and name, recipes and educational lessons.  The revamp worked, because this year's class was packed with 24 participants – the most to ever attend.  
The classes are free and open to people with diabetes and their family members or those interested in learning how to cook in a diabetes-friendly manner.
The next class series will begin in October and will be held in Hillsboro.