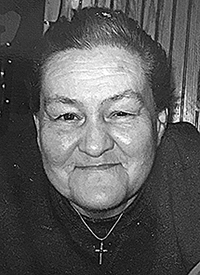 Sue Ann Corbett, 71, of White Sulphur Springs, formerly of Frost, died Friday, May 12, 2023, at the White Sulphur Springs Center.
Born March 26, 1952, at Marlinton, she was a daughter of the late Berlin L. and Shirley Ann Cross Kelley.
Sue had worked at a sewing factory and at Snowshoe. She loved Elvis and loved to sing his songs.
She attended the New Hope Church of the Brethren.
In addition to her parents, she was preceded in death by a brother, Verlin "Tommy" Kelley.
She is survived by her son, Ron Kelley, and wife, Jade; sister, Marilyn Kelley; brother, Scott Kelley, and wife, Nancy; three grandchildren; seven great-grandchildren; and several nieces and nephews.
Graveside service was held Saturday, May 20, 2023, at Moore Cemetery in Dunmore with Pastor Julian Rittenhouse officiating.