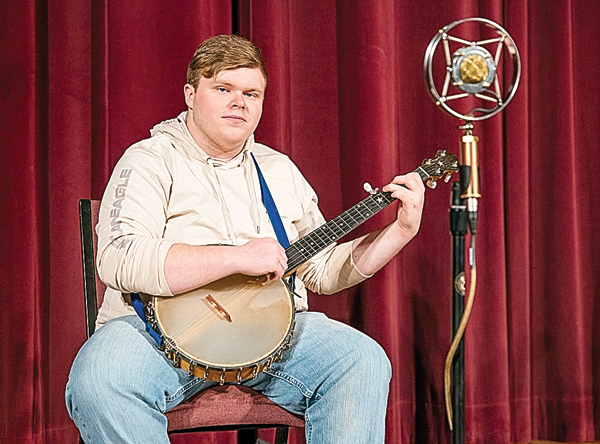 Suzanne Stewart
Staff Writer
Twenty-year-old Trevor Hammons, of Marlinton, is a member of the famous Hammons Family of Williams River which has produced at least eight generations of old-time musicians.
Being part of a family legacy, Hammons began his musical journey at the age of eight with instructor Pam Lund, of Woodrow.
Through the years, Hammons honed his banjo and fiddle playing skills with fellow musicians Dave Bing, Henry Barnes, John Blissard, Tim Bing, Ron Mullennex and Dwight Diller, just to name a few.
During his episode of the Pocahontas County Opera House Story Session series, Hammons played several of his favorite tunes and shared how he was introduced to the music of his ancestors.
Hammons opened with the tune "Grumpin' Old Man, Growlin' Old Woman."
"It's one of my favorite tunes that The Bing Brothers play," he said. "I think I just learned it at a jam session at Allegheny Echoes one year. I like that one a lot."
The Bing Brothers started Allegheny Echoes – a week-long music camp where old-time and bluegrass music enthusiasts learn to play banjo, fiddle, guitar, upright bass and more from the state's most accomplished musicians.
Hammons learned a lot of tunes in his time at Allegheny Echoes.
"There's another one that The Bing Brothers play," Hammons said. "They made a medley out of these three tunes. They play 'Elzic's Farewell' and they go into 'Gravel Walk.'
"I play this one a lot in contests," he continued. "I'm assuming Tim Bing taught it to me or I wouldn't be able to play it how I can. It's really cool. It's a three-part tune, and it's fun, especially in a big jam with three really loud banjos, six fiddles and three nice guitar players. It's strong. It's awesome.
"So, I'll play it by myself," he added, laughing.
A lot of old-time tunes, especially Hammons Family tunes, are handed down from one player to another and not through reading music. Most of the tunes were never written down, so there are times when songs are played differently, depending on who is playing it and who taught it to them.
Hammons played "Muddy Roads," which is one such tune.
"I'm going to play one of Sherman Hammons' tunes," he said. "I know two different ways of playing it, so I'm going to play both of them. I learned one version from Pam Lund when I was a kid. I don't know exactly at what age, but I'll play that one first, and then I'll play one I learned just by hearing other people play it.
"It's crazy how other people play a tune from other places because every tune is different everywhere," he continued. "The second version is more, I don't know how to describe it really. The A part is basically the same. The B part – people who don't really know the music or can't pick out different things – it might sound the same to you, but it's very different. I don't now how to explain it any differently."
The last tune Hammons played Sunday evening is tied to a very special memory for him.
"It's called 'Cauliflower,'" he said. "I learned it in the honeymoon suite at the Marlinton Motor Inn. It was just me and Tim [Bing], and I'll never forget it because there was barely any time where it was just me and him. If I was playing with him – if it wasn't in the class – then it was with fifty people. 
"It was really touching to me because he's my favorite banjo player in this whole world, by far," he continued. "Just sitting there with him, beside a hot tub, learning these tunes I had wanted to learn so bad for so long, that I couldn't figure out because they're so melodic and stuff. And to get to all the fiddle notes on them – he can do it.
"'Cauliflower,' that's one of my favorite tunes."
Hammons holds several awards for his banjo and fiddle playing in both youth and adult categories. He has mastered the old-time technique of banjo playing brought to Appalachia by musicians like his great-grandfather, Lee Hammons, during the 1800s and early 1900s.
Hammons continues to hone his musical skills at his home in Pocahontas County.
The Pocahontas County Opera House Story Session series is available to view online at the Opera House Facebook page and at pocahontasoperahouse.org
On Mondays in May, the series will be featured on the Pocahontas County Opera House Radio Hour on Allegheny Mountain Radio from 1 to 2 p.m. The audio from each session will be broadcast, along with past performances from the Opera House.