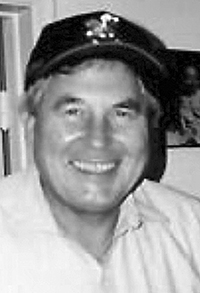 Steve Joseph Babich, Sr. passed away Wednesday, November 1, 2023.
Born September 2, 1934, in Fayette City, Pennsylvania, he was a son of the late John and Mary Stayer Babich.
In addition to his parents, he was preceded in death by his wife, sweetheart and soulmate of 66 years, Dixie Lee McCrory Babich; brother, John; and sister, Joanna.
As a young man, Steve loved baseball, and was the catcher for the Charleroi Merchants. Quite the talented catcher, he traveled to play and was scouted for his talent. He began work at the Allenport Steel mill working on the blast furnace known as "Big Jane." A hard worker and not afraid of challenges Steve then joined Prudential Insurance and quickly became a success for 30 years, receiving promotions and numerous accolades and rewards as the top agent locally, regionally and nationally.
Steve and Dixie's life together was an example of love at its finest. Dixie and Steve had four children, Victoria, Steve (Dolly), Edward (Liliana), and James (Gloria).
Steve loved his role as father, uncle, grandfather and great-grandfather. His grandchildren Steve III (Rebekah), Richard (Rachel), James (Ashley), Jonathan and Tabetha, owned a piece of his heart. The great-grandchildren, Emily Grace, Gabriela Rosalee and Maddox joined that special category of the little ones he adored, and two more great-grandchildren are on the way.
Steve is also survived by his beloved sister, Mary Marcini (Richard); his brother, Richard Babich, Daniel Babich (Judy) and sister-in-law, Delores Babich; as well as nieces and nephews. And lest we forget – the family furbabies. A small pack of Babich pups met Steve in heaven – Maggie, Goldfeet, Blackfoot, Willie, Scamp and Brownie. Steve and Dixie's living furbaby, Molly, is grieving with all of us.
A nice long chat with Steve would reveal the vast extent of his adventurous life. As a young man, he took on challenges and mastered every one of them. A candy maker, a roofer, an alter boy, a steel mill worker, plumber, house builder, carpenter, electrician, farmer and truck driver. Honestly, he could do just about everything. When a pretty woman named Dixie came into his life, he became a proud husband who provided for his family with a sense of pride. He also cared about his community, and was on the Charleroi Youth Commission, an organization that helps troubled youths.
Steve and Dixie set goals that the ocean and mountains were in their future. Moving to South Florida in the late 1970s, Steve quickly established himself as a top-selling insurance agent. He and Dixie began their love for the ocean and became semi-residents of the Florida Keys for more than 40 years. There he added another talent to his portfolio. He became the captain of his ship, the Steve and Dixie, a classic Bertram boat that must hold the record for most fish caught. He shared this love for the Florida Keys with his family, who all embraced the activities of being on the open ocean.
Then it was time to realize the goal of the mountains. Steve and Dixie explored West Virginia, and after years of looking, found the perfect cabin on the hill. Growing a garden, harvesting fruit trees, and taking in the peacefulness of this oasis were the norm. Of course, the rest of the family followed suit, and all came to love this hidden little gem that relaxed and renewed the soul.
Steve embraced life and its challenges, triumphs and love. He did it all, with strength and tenderness, guided by a heart that would put a sparkle in his eye when he smiled at you. A gentle man, yet a man of so much strength.
Steve's passing has left a void for the family. We love him and miss our Pap Pap. But he is now with his sweetheart, Dixie. And as much as his life on Earth was an adventure, a new one begins in Heaven with his forever beautiful bride, Dixie. May those of us remaining always have fond memories of Steve, keep him alive in our hearts, and be thankful we were part of his fantastic 89-year venture.
Mass was held Tuesday, November 7, 2023, at Nativity Catholic Church in Hollywood, Florida.
 
Steve will go to his final resting place next to his beloved wife at the cabin on the hill in Frank.
A viewing will be held Sunday, November 12, 2023, from noon to 2 p.m. at Wallace and Wallace Chapel in Arbovale followed by a final goodbye at Babich Family cemetery.