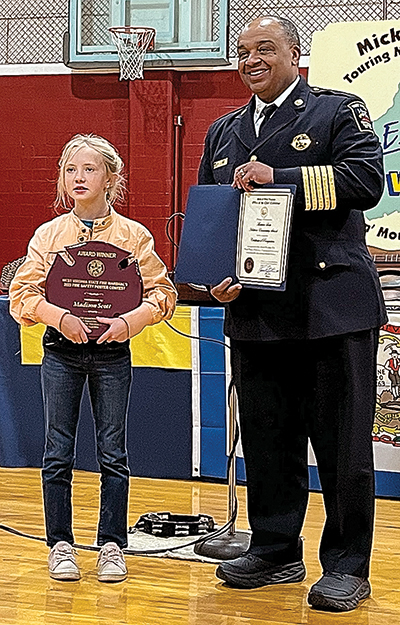 Suzanne Stewart
Staff Writer
West Virginia State Fire Marshal Ken Tyree made a special trip to Hillsboro Elementary School last Friday to present an award to Madison Scott, who won the sixth annual Fire Safety Poster contest.
Tyree explained that Fire Prevention Week was established in 1947 by President Harry Truman. The week was a way of reminding people to be cautious in their homes and businesses to prevent fires and be safe when a fire does occur.
"Eight years ago, I decided to establish this contest and program in hopes that at this level – elementary – that parents, teachers and the students would be involved in the talk about fire safety, Tyree said."
The national theme for this year's Fire Prevention Week was Cooking Safety, as a reminder that it is important to use safe practices in the kitchen to avoid fires.
The poster contest was open to students – kindergarten through sixth grade – and Tyree said there were between 800 and 1,000 entries from students in the state this year.
Tyree presented Scott with a letter from Governor Jim Justice which congratulated her on winning the contest.
"As governor, I commend you for demonstrating the importance of fire safety and wish you the best for your future," Tyree read from the letter.
Scott also received a Maltese Cross shaped plaque from the State Fire Marshal's office.
"The Maltese Cross is a symbol of the fire service and since this was all about fire safety and fire prevention, we had the award put on a Maltese Cross plaque," Tyree said.
Tyree thanked all the students at HES who participated in the contest and congratulated Scott again for her winning poster.
"It is so important to us to be able to help get our message out and for you all to help create messaging that your community and other communities throughout the state can adhere to, so keep up the good work," he said.
Scott's poster will be printed in a calendar along with 11 other posters which were runners-up in the contest.