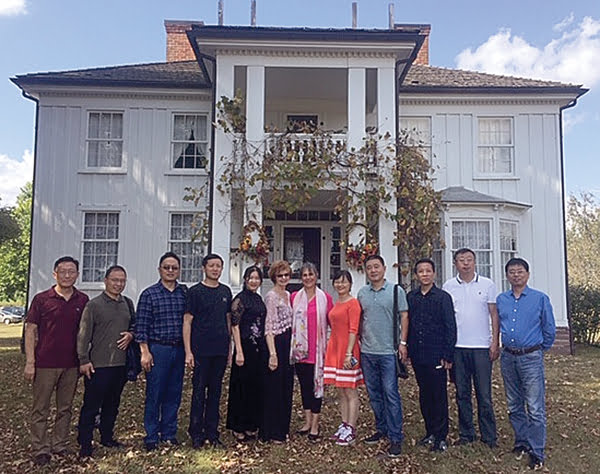 Laura Dean Bennett
Staff Writer
Last Monday, a group of 10 Chinese physicians, surgeons and the Director of Nursing from Suqian Hospital, located not from Zhenjiang, China, came via Morgantown to visit the Pearl S. Buck Birthplace in Hillsboro.
After consulting with physicians and educators in the West Virginia University Science and Health division, the delegation asked to visit the birthplace of Pearl Buck.
"It's always exciting to have visitors here from China," birthplace docent Phyllis Lubin-Tyler said.
"Although none of them spoke English, they had a wonderful interpreter/translator with them, so we got along very well. We've had many international guests here at the birthplace, and we are always especially proud to have Chinese visitors. It's proof of the remarkable legacy that Pearl Buck and her family left in China.
"It's a reminder of how much Pearl loved the Chinese people and the admiration the Chinese have for her."
Chinese citizens who weren't already familiar with the Pulitzer and Nobel Prize winning author, surely heard of her when the Pearl S. Buck Cultural Park and Museum in Zhenjiang opened to the public in 2017.
Lubin-Tyler visited the park two years ago, traveling with docents of the other Pearl Buck museum, the Pearl S. Buck International Foundation, located in Perkasie, Pennsylvania.
The Foundation is headquartered in Green Hills, the home Buck shared with her publisher and second husband, Richard Walsh, in Bucks County.
Like her birthplace in Hillsboro, Green Hills is open to the public.
The group of Suqian medical professionals were familiar with the $37 million park that the Chinese government built to honor Buck, and they were interested in learning more about her and her family home in West Virginia.
Other areas of the state were on the group's possible itinerary while they were in West Virginia, but they were most interested in going to Hillsboro to see the Stulting Home and the Sydenstricker Cabin.
After a grueling drive from Morgantown, which took four hours because of roadwork and traffic delays , the group was delighted to take a rest and enjoy lunch at the Sydenstricker Cabin.
While Lubin-Tyler welcomed her guests and began talking about the history of Buck's family homes, a heavy downpour rained down on the proceedings.
Droop Mountain resident Helena Gondry and Lubin-Tyler's husband, Robin Tyler, hurried to move the lunch inside the cabin, but the group asked if they might "rough it" and have an old-fashioned outdoor picnic – even if it was in the rain.  
The Chinese visitors sipped tea which was, amazingly, from their own hometown.
"I explained to them that the tea was a gift to me during my visit there [Zhenjiang] in 2017," Lubin-Tyler said. "It seemed so perfect, that they traveled so far to be served tea from their own hometown, which I had traveled so far to visit only two years ago."
"It felt as though our meeting was meant to be."
The Chinese delegation was very attentive.
"They listened carefully to everything their translator conveyed as I presented the tour, and they asked thoughtful questions," Lubin-Tyler related.
"Of course, they loved seeing all the Chinese artifacts from Pearl's childhood and her life in China, and they said that they were impressed to see both her mother's family's home and her father's family's home.
"And they were particularly impressed with an exhibit which was done by two Hillsboro Elementary fourth graders.
"Pearl S. Buck, "A Bridge Between Two Worlds," by Molly Grant and Lexi Arbogast, was a project creation for last year's social studies fair and is now on display in the Stulting House.
After the tour, Lubin-Tyler had gifts ready for each member of the delegation – grape jelly that she makes from the Stulting House concord grapes every year and apples from the orchard behind the house.
The group was in no hurry to leave.
They'd lingered as long as they could, but they reluctantly boarded the van and prepared for the ride back to Morgantown.
After giving the driver directions for another, perhaps better, route home, Lubin-Tyler said he told her that he'd never really known about Pearl Buck's birthplace, but he'd enjoyed the tour and would be bringing his wife and daughter back to tour the house "because they love history."
Lubin-Tyler reflected on what a good day and a good week it had been.
"Today we had visitors from Beckley, California and China, and last Thursday we had fourth and fifth graders from Hillsboro touring the house.
"I love to tell Pearl's story to everyone, and it's a thrill to have a group of such appreciative visitors from China.
"But I especially like to tell our young people about her life story and her career. They need to know that this national treasure and international figure was born right here in Pocahontas County."