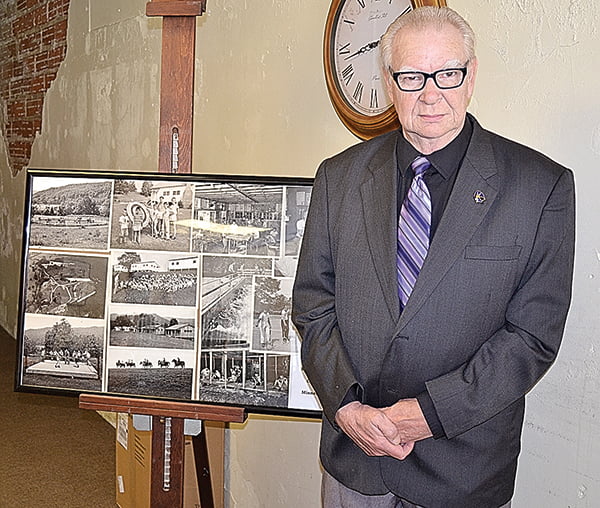 Lifelong resident and former Marlinton Mayor Joseph W. "Joe" Smith will be Parade Marshal for this year's Pioneer Days Grand Parade on Saturday.
He became involved with Pioneer Days in 1971 and served as vice-chairman and chairman for many years.
Smith, a graduate of Marlinton High School, could write volumes about all things "Marlinton."
He began his work career during high school, working nights and weekends at the Alpine Theater. He was an active member of the Marlinton Volunteer Fire Department for 30 years, serving as its secretary and on the executive board, and was selected as Fireman of the Year.
Smith was one of the first four EMTs in the department, as well.
After serving four years in the military, Smith returned to his hometown, and filled the years with various jobs – most visible to the public was his tenure at Home Products Market.
He also worked for the Department of Highways, was a security guard at Snowshoe, and finally retired from Industrial Timber and Lumber Company at Edray.
His military service led him to his years' long membership in the American Legion, Pocahontas Post #50, and to being a charter member and Secretary/Treasurer of the Vietnam Veterans of America, Chapter #1100.
His other interests and involvements include scouting, where he was a Webelo leader and an assistant leader for the Explorer Scout Troop as well as serving on the Buckskin Council. He has served on the Pocahontas County Parks and Recreation Board, and was a founding member of the Autumn Harvest Festival, serving as it director for the first two years.
Smith has long been active in politics. In high school, he was a member of the Teenage Republican Club, serving as its president. He has served as chairman of the Pocahontas County Republican Executive Committee.
He was a member of Marlinton Town Council for 14 1/2 years, and served six years as Town Recorder.
He was elected Mayor and assumed office July 1, 2012, just a few weeks after the derecho played havoc in the town and county.
As a longtime board member of the Marlinton Railroad Depot Corp., Smith was involved in the reconstruction of the depot after it was nearly destroyed by fire in 2008.
As Mayor, in November 2013, Smith found himself once again watching as fire destroyed a half block of businesses on Main Street.
"Every mayor has his disaster," Smith said. "Doug [Dunbrack] had the '85 flood. Dotty [Kellison] had the snowstorm and flood in 1996. Dennis [Driscoll] had the Derecho. I came into office during the clean-up."
Smith currently serves as president of the Pocahontas County Historical Society, vice-president of the Pearl S. Buck Foundation, member of Marlinton Rotary, vice chairman of the Marlinton Planning Commission, Chairman of the Discovery Junction project, and is on the Board of Directors for the Region Four Planning and Development Council for the State of West Virginia.
He spends his free time visiting with friends at the coffee shop and researching his family history.