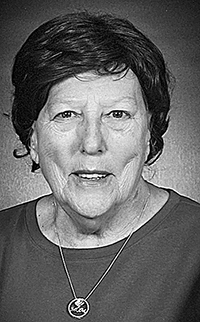 Shirley Ann Wilfong, 84, of Buckeye, passed away in the early morning hours of Saturday, October 7, 2023, in Charleston. Her death came peacefully holding the hand of her grandson, Dr. Zachary Grimes. Later that afternoon, the sky over Charleston was blessed with a rainbow overarching the hospital. A sign that Shirley's spirit had finally made it home.
Born December 15, 1938, at Mill Point, she was a daughter of the late Henry and Lola Oscar, who lived on Stephen Hole Run. 
Shirley was a homemaker. She loved listening to Allegheny Mountain Radio, often calling in to request a song, giving her name as the "mystery lady." Later in life, she discovered football, watching games religiously. Shirley was a Christian. She was fortunate to have many church friends who picked her up for church, took her shopping and visited her. The family is especially grateful for Ivan and Wanda Withers and Robert and Teresa Nelson.
In addition to her parents, she was preceded in death by her husband, Benjamin H. Wilfong; and sisters Betty Berry and Jean Thompson. 
She is survived by four children, Gene (Patricia) Wilfong, Velma Wilfong (Bill Moore), Leslie (Dennis) Gibson, and Carolyn Wilfong; and two grandchildren, Dr. Zachary Grimes and Miranda Wilfong. 
A graveside service was held Tuesday, October 10, 2023, at Ruckman Cemetery with Pastor Vincent Wine officiating. In lieu of flowers, memorials may be made to the Allegheny Mountain Radio, 9836 Browns Creek Road, Dunmore, WV 24934.
The family is grateful for the nurses and nursing assistants at Pocahontas Center, Pocahontas Memorial Hospital and the staff in the TICU at CAMC General Hospital.
Finally, it should be noted that both Shirley and her husband, Ben, passed away in the month of October. In the Northern Hemisphere, October represents the height of autumn. A time when the leaves reach peak color, daylight becomes shorter, nights cooler, and the harvest is collected. A time of transition and rest. Shirley and Ben worked hard during their time here; the evidence can be seen in the success of their children and grandchildren. Finally, it is time to rest; the harvest has been collected.