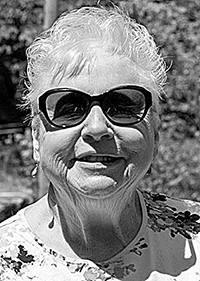 Shirley Ruth Waring Adams, 81, of Marlinton, went to be with her Lord and Savior Monday, September 18, 2023.
Born February 19, 1942, in Escondido, California, she was a daughter of the late George Guy Waring and Lorna Ruth Waller Waring.
Shirley was married to Billie Eugene Adams, of Jolly, Texas, in January 1960. They lived in eight states before landing in Marlinton in 1977. Billie was a cowboy and a cement ma-son. They lived and worked on ranches in various states. Shirley cooked for the cowboys, and her love of cooking always stuck with her. If you ever had one of her homemade rolls, pizzas, pepperoni rolls, pies, cookies (or really anything), you would always ask for more.
She was extremely creative and talented in doll making and woodworking. She made dolls and miniatures at The Greenbrier Dollhouse and made lampshades for Gibson's at The Greenbrier Hotel for many years before opening her own craft shop at Cass Scenic Railroad State Park, where she created for 11 years. Her button dolls, Raggedy Ann and Andy dolls, stuffed bunnies and many other creative works can be found all over the county. Shirley also worked for the Pocahontas County Senior Center and the Pocahontas County Convention and Visitors Bureau for 15 years before retirement. She served on The Historic Landmarks Commission as well as the Pocahontas County Opera House Board. She was a member of the Marlinton Church of Christ. She loved her church family and was strong in her faith and her love for God. Shirley always had a witty sense of humor and loved to make people laugh. She loved serving others and enjoyed spending time with her family and exploring Pocahontas County, especially on the Scenic Highway.
In addition to her parents, she was preceded in death by a sister, Patricia Waring Pitchford, and her husband, Floyd Pitchford; brother-in-law, Albert Bruce; son-in-law, Daniel Fisher; and daughter-in-law, Janett (Jenny) Adams.
She is survived by her children, Linda Adams, of Huntersville, Brenda Coch-ran, and husband, Greg, of Dunmore, Raymond Adams, and wife, Holly, of Morgantown, and Clifford (Kip) Adams, of Los Angeles, California; sisters, Georgia Bryce, of Kingman, Arizona, and June Langford, and husband, Jack, of Spokane, Washington; brother, Ralph Waring, and wife, Laurie, of Phoenix, Arizona; beloved grandchildren, Kellyn and Katie Cassell, Tausha and Joshua Grim, Courtney and Jared McClung, Sabrina and Andrew Raymond, Charlene Adams, Makinsey and Greg Poeppel, Sebastian Adams, Bryce Adams, Devin Adams, Dominic Adams, Ty Cochran and Morgan Cassell; and great-grandchildren, Hunter, Kenidy, McKenna, Maggie, Charlotte, Brailey, Chloe, Ellie, Leo, Kai and Baby Girl Poeppel coming in October.
She will be greatly missed.
MamMa, you are our sunshine, our only sunshine, and we love you!
The funeral service was held Sunday, September 24, at Marlinton Church of Christ with Brother Mike Moore officiating.
Interment was in Mountain View Cemetery.
In lieu of flowers, memorials may be made to the Pocahontas County Opera House, P. O. Box 282, Marlinton, WV 24954 or WV Caring Hospice and Palliative Caring – https://www.wv caring.org/hospice-center-donation-page/
Online condolences and memories may be shared at www.kimblefuneralhome.com
Funeral arrangements are entrusted to the Kimble Funeral Home in Marlinton.