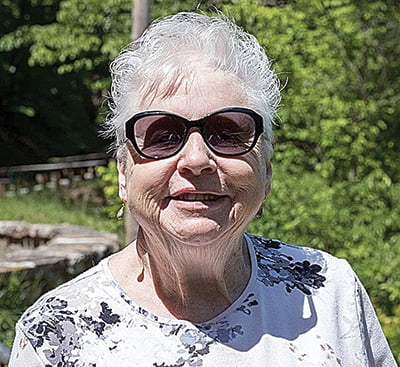 Laura Dean Bennett
Staff Writer
Like three generations of her family before her, Shirley Ruth Waring Adams was born in Escondido, California. She was born February 19, 1942, to be exact.
She and her four brothers and sisters were all born and raised in the rural suburb of Escondido.
Times were tough then.
"We were raised by my grandparents," Adams said. "They were so sweet. But they taught us to be self-sufficient – if you want something, you have to work for it."
Adams has come a long way from those days in California, with lots of interesting stops in between.
"I've lived in eight states," she said. "California, Arizona, Idaho, Illinois, Texas, North Carolina, Oklahoma and West Virginia."
Through the years, she's had all kinds of jobs but she said her favorite was being a wife and mother.
When she met Bill Adams, a friend of her brother-in-law's, it was love at first sight.
"I married Bill Adams," she said. "He was a cowboy. Well, he was a Marine – a drill instructor at Camp Pendleton. But at heart, he was really always a cowboy."
After his stint in the Marines, Bill and Shirley moved around the West from one cattle ranch to another – three in all – in California, Texas and Arizona.
"While Bill was being a cowboy, I worked as a cook and I really enjoyed it," Adams said.
"But, could those boys eat! I learned how to make a pot of beans, I can tell you that. It was beans twice a day- that's because beans will really fill a person up.
"I had to bake bread and dinner rolls three times a day, every day.  So I got pretty good at it.
"Maybe I spoiled them by making cake and ice cream, too."
After they moved on from the XL Ranch in Texas, Adams said she heard that they had to hire six cooks to do what she'd been doing.
"I guess I was a hard worker," she said.
With all those years working on cattle ranches, did she learn to ride a horse? 
"Oh I rode plenty of horses," Adams said. "Plenty of them.
"But I never really liked them much. I've always said I like horses best when they're on the other side of a fence."
Adams has a humorous side.
She also has an artistic side.
As a young lady, she worked as a window dresser – now we'd call it a designer– for a clothing store in Escondido.
She says she tried all kinds of art, and liked it all.
But she really excelled when it came to making dolls and doll furniture.
In fact, at The Greenbrier and in Cass, she was quite famous for it.
Her dolls were on display at the Greenbrier Artists Colony at The Greenbrier, and she designed the official Greenbrier Hotel doll.
"We were walking around at The Greenbrier one day and I went into the Greenbrier Artist Colony and got to talking with someone.
"I mentioned that I had made dolls in Idaho and next thing I knew, they wanted some," she said.
"I modeled my dolls after my friends. I could make a doll to look like your friend."
If you ever find yourself in Gibson's gemologist shop at The Greenbrier, take a look at the silk lampshades there.
Adams made those, too.
She had a craft shop in Cass for 20 years – in the big white house across from the park office – where her crafts and dolls were on display.
"The most fun about having the craft shop was meeting the people that came in," she recalled.
"Years later, I'd meet people who'd tell me how much they'd enjoyed a doll or something else I'd made, and, of course, that made me feel real good.
"I made a doll out of dishrags for my daughter, Linda, when she was little.  
"She loved that doll so much, I later decided to make her a fancier one – a really special doll.
"Well, she wouldn't have it. She wanted nothing to do with it. She loved the other one, and that was that," Adams said with a smile.
"I really made a lot of good friends while I was working in Cass. I even became a member of "The Liars' Corner." And you had to work your way up to that. 
"Newcomers would sit on a big rock under the tree, then, eventually, you'd earn your way up to sitting on the benches outside of the company store.  We'd sit and tell tall tales and greet the visitors who came to ride the train."
Some 30 years ago, Adams found herself and her family in Pocahontas County when Bill got a job as a superintendent on the VEPCO dam project in Virginia.
The Adams family moved to Huntersville, and lived in the Grimes' house.
It wasn't easy making the transition at first," Adams remembers. "The kids weren't so sure they liked the idea of moving, and it took a little while for them to all settle in."
There were four Adams children, Raymond, Clifford, Linda and Brenda.
"My daughter, Brenda, was so mad, she didn't speak to me for two years," Adams laughs.
"I remember riding my bike to see around. I used to love riding a bike.
"Sometimes I'd look around and think, 'How did I get to West Virginia?'"
"I decided to make the best of it and just dig in. 
"At first I socialized with the wives of the guys who worked at the dam, and I still have some of those friends. But, eventually, I made friends here in Pocahontas County, and I came to really feel like I belonged here."
Adams thinks West Virginia is a special place; that the people here are West Virginian through and through.
"I always told my kids, 'If you don't want to live in West Virginia, don't marry someone from West Virginia.," she said. "They may leave for a while, but they always come back!"
Linda, lives in Huntersville, Brenda lives in Dunmore, Raymond, is in Morgantown and Clifford went to the West Coast and now lives in Los Angeles.
"I love Pocahontas County," she said. "It's a beautiful place, a special place. A great place for families."
"I like that people can bring their family here and have a wonderful vacation, for comparatively little money."
Spoken like someone in the hospitality business.
Oh, that's right. 
That's another of the hats Shirley has worn.
Shirley worked at the Pocahontas County Convention and Visitors Bureau in Marlinton for 15 years.
You may remember seeing her smiling face at the front desk, answering questions and directing visitors to various destinations in the county.
And maybe being an ambassador for the county runs in the family, because her daughter, Linda Adams, works at the CVB now.
"I remember so many nice people who came in," she said. "Visitors who'd ask where to eat, what to see, how far is this or that. I just really liked talking to them.
"One time, two young men came in and asked me for directions to Snowshoe.
"After I told them how to get there, they said, 'No, that's not right.'
"I just said, 'Well.. I'm not the one who's lost.'"
Despite a few setbacks with her health and injuring her back in a recent fall,  Adams is always optimistic.
She has no doubt that she'll be up and at 'em and walking again soon.
"It just takes determination and three hours of physical therapy a day," she smiles.
"If I were to give anyone advice about how to make the most of life, I'd tell them what I used to tell my kids.
"First, you have to have dreams or you can't do anything.
"Get an education.
"And if you want something, you have to go out and work for it.
"And never, never give up.
It's those kinds of lessons that she has lovingly imparted to her children, and now her 24 grandchildren and nine great grandchildren. 
Adams said that with all her travels out west, it had always been a dream to see the Grand Canton, but she'd never been able to get there, until a few years ago.
"We flew out to Las Vegas and drove over to see it.
"I actually got to walk along the edge of the Grand Canyon!"
After reflecting on her adventurous life Adams said, "It's a wonder I've lived to be so old!"