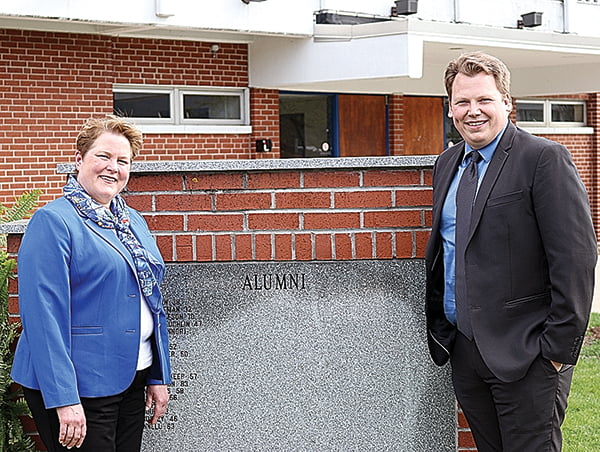 West Virginia University Potomac State College alumnus Andrew Seymour, Ph.D. grew up on a farm in rural West Virginia in the shadow of the Green Bank telescope, which inspired him to seek a career in science. 
He was recently recognized by the Alumni Association at WVU Potomac State during a special ceremony with the inscription of his name on the Duke Anthony Whitmore/Henry Louis Gates, Jr. Academic Achievement Wall, which was conceived in order to recognize the academic and scholarly achievements of alumni, faculty and students. 
Dr. Seymour attended Potomac State College from August 2002 to May 2003 before transitioning to the Morgantown campus of WVU where he earned two bachelor of science degrees, one in mechanical engineering and the other one in aerospace engineering, as well as a master's and doctor of philosophy in physics, with an emphasis in the study of dynamical and emission variabilities in pulsars.  
Dr. Seymour's research experience began with a summer internship with NASA in Fairmont, researching statistics on a variety of hardware components that had previously been on NASA missions.  He also served as a graduate research assistant in ultra-fast optics and in computational dynamics, as well as aiding in research at Seoul National University in Korea.
These experiences were followed by serving as a research assistant in astronomy where he was involved with a number of projects, including: developing algorithms that discovered and quantified bursting mode emissions in pulsars; creating automated iterative maps; performing non-linear time series analysis, and searching for fractal temporal patterns in rotating radio transient emissions.
He has attended and presented at many conferences, including: the American Astronomical Society, the International Astronomical Union General Assembly, and the International Pulsar Timing Array to name a few.  He has also been published numerous times regarding subject matters like pulsars, multi-wavelength observations and radio bursts.
Regardless of how unwieldy the path has been, Dr. Seymour has always brought a strong work ethic to every endeavor, and has made consecrated efforts to share his cumulative knowledge.  One way he has done this is by serving as a graduate teaching assistant, and as a mentor for the National Science Foundation Research Experiences for Undergraduates multiple times. 
Dr. Seymour currently serves as a member of the scientific staff at the Green Bank Observatory in Green Bank, which is operated by Associated Universities, Inc. 
He continues to encourage those who will listen to pursue their interest in math and science.