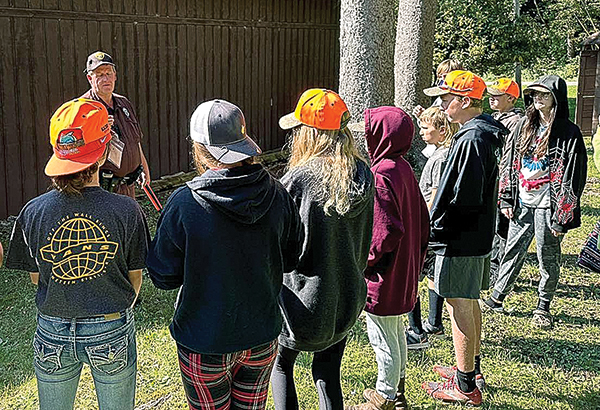 Suzanne Stewart
Staff Writer
The Nature's Mountain Classroom programs are in full swing this fall with students learning about hiking, mountain biking, hunter safety and more.
Last week, seventh grade students from Marlinton Middle School and Green Bank Elementary-Middle School spent three days at 4-H Camp Thornwood to learn about hunter safety and fun things to do outdoors.
The hunter safety program was added to the NMC curriculum with the help of Peggy Stull, who started a fund in memory of her grandson, Kaiden Stull, who passed away after a hunting accident in 2022. A portion of the fund was used to pay for all the seventh grade students to take the hunter safety course online.
NMC founder and director Tracey Valach explained that, during the three-day camp, the students worked with DNR Corporal Matth-ew Barkley and Cully McCurdy, of the National Wild Turkey Federation, to get familiarized with gun safety.
"They learned about all the different types of guns – how to safely load and unload each type of gun," Valach said. "Cully was there, and they did the air rifles. They got to shoot, but they weren't shooting live rounds. Next year, in eighth grade, they'll get to do skeet shooting."
Once the students have completed the online course, Barkley will go to the schools to administer the written test needed to finish the hunter safety course.
In addition to the hunter safety portion of the camp, the students also learned to make salsa and cook over fire, crafted boats they may or may not have floated down the river, and enjoyed a square dance at the pavilion. The three-day camp ended with four teams competing against each other in an escape room event.
Sasquatch was being held captive in the recreation building, and each group had to find clues in a cabin that would lead them to a key that would set it free.
The seventh grade students left with a better understanding of the outdoors, coping mechanisms and hunter safety, as well as new friends with whom they forged a bond.