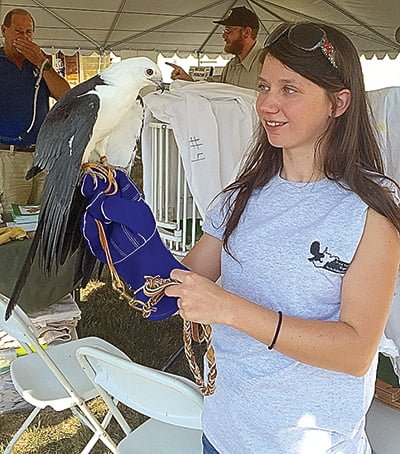 Free entertainment and nature activities will abound from 10 a.m. to 4 p.m. Saturday, September 9, during the Freshwater Folk Festival at the White Sulphur Springs National Fish Hatchery on East Main Street.
There will be music and dancing plus activities that enhance appreciation of our streams and lakes, fish and wildlife and they are also a lot of fun. Food and crafts will be available for purchase.
It all happens on the beautiful hatchery grounds .
The six-piece band Marshall Petty and the Groove will create plenty of excitement around the festival amphitheater from 10:45 a.m. to 12:45 p.m. Incidentally, in June of last year the band was performing at Carnegie Hall in Lewisburg on the very evening that the flood waters were creating havoc at the hatchery.
Marshall plays saxophone and provides vocals for many old school R&B standards and blues tunes. In the Army in Germany, in Minnesota, in Ohio, in college, at West Virginia State, wherever he went, he played in a band. For years, he toured with jazz-blues organist Winston Walls.
More vocals will be provided by Lady D (also known as Doris Anne Fields and "West Virginia's First Lady of Soul"). Lead guitarist Dan Bailey, bassist Durell Edgerton, drummer Mike Fitzwater, and piano man David B. Loyd (also of the band Rasta Rafiki) will join together to create the full sound of a great band.
From 1 to 3 p.m. the acoustic duo Piedmont Bluz will treat the crowd to the Piedmont style of blues named for its primary region of origin, the Piedmont Plateau region from Richmond to Atlanta. Valerie Turner's fingerpicking on guitar provides the signature characteristic of this musical style. Her singing glides right along with it, and she occasionally takes up the banjo or the spoons. Her husband, Benedict, plays his fancy washboards and harmonica, adding his unique touch to the music.
Based in New York, they have performed at venues in America, Europe, and even Jerusalem. The duo has been featured at numerous festivals, including the Newport Folk Festival this July.
The Southern Stompers, a line dance troupe from Covington, Virginia, will get their kicks between band performances.
Andre Kharisov and David Lynch will close out the festival.
In addition to the hands-on activities, demonstrations, and displays relating to appreciation and preservation of freshwater habitats and nature in general, hatchery tours will show the success of the recovery effort since the flood. Most of those activities will take place under a huge tent, and canopies will be set up behind the benches in front of the bandstand so a bit of rain or hot sun won't be a problem.
Three of the many activities will be West Virginia Snakes with Roy Moose, fly fishing skills taught by Trout Unlimited, and impressive birds provided by West Virginia Raptor Rehabilitation Center. Fun with scientific phenomena will be offered by the Sigma Xi Scientific Research Society. Green Bank Observatory will bring a small radio telescope built this summer by the First2Network Summer Internship participants.
Local watershed associations will promote preservation of the freshwater environment.
The Vietnam Veterans organization will supervise many games during the event.
Parking for the festival will be in the northwest corner of the hatchery grounds reached by entering via Hemlock Drive about 100 yards west of the main hatchery entrance.
This event is presented by the Friends of the White Sulphur Springs National Fish Hatchery and sponsored by businesses, several individuals and couples, the West Virginia Division of Culture and History, and the Greenbrier County Commission. For more information see www.freshwaterfolkfestival.org or call 304-646-0602.