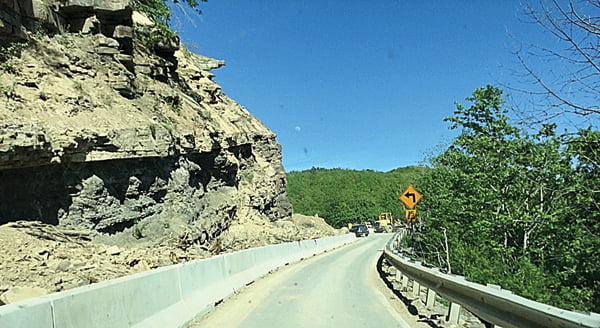 Suzanne Stewart
Staff Writer
 
Locals and tourists alike know the true meaning of a dangerous curve when they travel Rt. 66 into Cass. With a rock face on one side and a cliff on the other, the turn has been the cause of fender benders, close calls and flat tires for many years.
That all changes this summer. Construction began in late April, early May at mile post 12.65 at Bar Ford to make the curve less hazardous for motorists. 
West Virginia Department of Highways District 8 construction engineer Steve Schumacher said the project is part of Governor Jim Justice's Road to Prosperity initiative to make the roads of West Virginia safer.
"Our district manager with maintenance and construction, and our design department are always looking throughout our four counties to try to find projects and improvements for our roadways," Schumacher said. 
The district team compiles a list of projects and improvements, which is then sent to the state office in Charleston and projects are selected in each district as funding becomes available.
With the Cass curve, Schumacher said the project is two-fold – to increase sight distance for motorists and to widen and stabilize the road.
"On the inside of the curve, we are removing the existing rock outcrop," he said. "We're going to cut back to widen out the curve and make a smoother curve and improve sight distance. On the outside of the curve, we're actually going to build a little retaining wall – it's on the Cass side of the project. We're putting in a little retaining wall for stability and widening of the roadway, too. 
"So, the curve is going to be a little wider than it is now," he continued. "It's going to have much improved sight distance, and it's actually going to be a little easier curve to go around, especially for tractor trailers and the tour buses that go to the Cass Railroad [State Park]."
The job was contracted out to AMPECO. Inc. of Elkview. Schumacher said the crew expected to be finished by early August, but it has asked for a 30-day extension due to the COVID-19 pandemic.
"We're still in negotiation to see about that," he explained. "Hopefully – we're shooting for the end of August, early September."
Until then, motorists are asked to be cautious when traveling Rt. 66. The construction crew is using stoplights instead of flaggers to direct traffic during the project, and Schumacher said because of its location, motorists need to be attentive to the lights. 
"We just ask people to be patient of the work to be done," he said. "It's one-lane traffic with a traffic signal. Be patient. Wait for the traffic signal to change, because if you happen to go when you're not supposed to, there's no turning around. It's a one-lane, tight area.
"We're looking to get it done as quickly and as safely as we can."
Schumacher added that after this project is finished, the district hopes to start another project on Rt. 66 in another turn that isn't as sharp, but could use the same treatment as the current project.