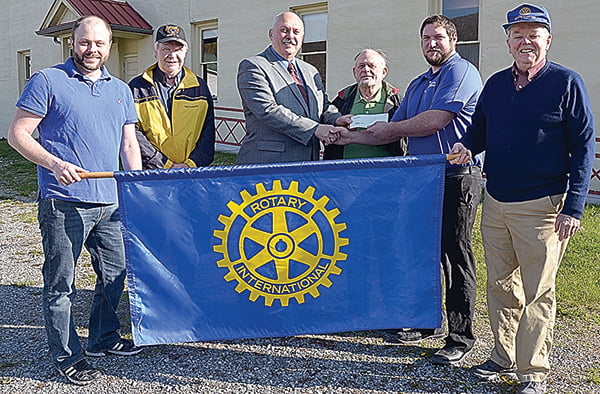 Marlinton Mayor Sam Felton, center, receives a $2,000 check from Marlinton Rotary Treasurer Kendall Beverage on the now vacant lot beside the Pocahontas County Opera House.
After two years of planning and design work, the Vacant Lot Committee is in fundraising mode to build "Discovery Junction" at that location.
Once completed, Discovery Junction will have an outdoor stage, splash pool, covered walkway for vendors such as the farmers market, picnic tables and more.
Work will begin on different aspects of the park area as funds become available.
Marlinton Rotary made the donation with the support of Rotary District 7550.
Pictured, l to r: Rotary Secretary Kenny Woods, Vacant Lot Committee Chairman Joe Smith, Felton, Rotary Vice-President Roy Gibson, Beverage and Rotary President Roger Trusler. L.D. Bennett photo