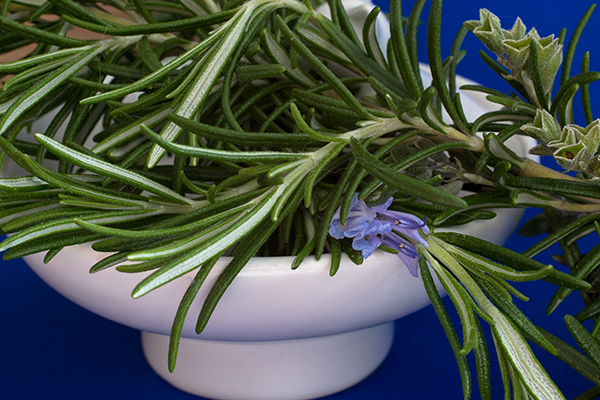 Melondy Phillips
Staff Writer
About 10 years ago, I came down with a very bad case of strep throat; so bad that it dropped into my lungs. The strep throat eventually went away, as well as most of the cough, but not all. The mornings were the worst with the cough fading in the afternoon.
Having a cough like that in 2020 wasn't easy. I could only go grocery shopping in the evenings, after the cough had calmed down. Every time I did cough and after receiving many looks that could kill, people would bolt from the scene of the crime.
During this time, and due to a different issue, I started doing in depth research on rosemary. I started occasionally drinking rosemary tea. After about a week of drinking the tea off and on, I started to realize that my cough wasn't as bad. Some days I hardly coughed at all. Because of this, I started experimenting. I drank a cup of tea one day then none for a day or two. Then I drank a cup each day for a few days before stopping again. I discovered that every day I drank the rosemary tea my cough was minimal or completely gone.
Rosemary has traditionally been used to help ease muscle pain and indigestion, boost the immune and circulatory system, help with nervous disorders, promote hair growth and improve memory. Rosemary has also been used as an antispasmodic, diuretic, expectorant, antimicrobial, anti-depressant, anti-rheumatic and antiepileptic.
Many studies have been completed on rosemary.
In a paper published online at the National Library of Medicine, June 10, 2020, about the Anticancer Activity of Rosemary (https:// www.ncbi.nlm.nih.gov/pmc/articles/PMC7352773/), rosemary showed a significant action on preventing the development of or stimulating programmed cytotoxic (cell death of tumor cells) in the following cancers: colon, liver, lung, ovarian, cervical, oral, kidney, prostrate, breast, pancreatic, gastric and esophageal.
The research paper stated, "Rosemary has been primarily recognized as a possible anticancer drug mainly for its antioxidant activity," and "A study performed on leukemia … human cell lines,… demonstrated significant growth reduction." In their paper about the therapeutic potential of rosemary for Alzheimer's disease, published online January 28, 2016, (https://www.ncbi.nlm.nih.gov/pmc/articles/ PMC4749867/) findings reported "These very mechanisms do also appear to be involved in the potential therapeutic effect of the compounds for AD" (Alzheimer's disease) and "…some of the rosemary diterpenes such as carnosic acid have been shown to have beneficial effect in Parkinson's disease model." In Medical News Today, Everything You Need to Know about Rosemary, by Joseph Nordqvist, December 13, 2017, (https://www.medicalnewstoday.com/articles/266370#_noHeaderPrefixedContent)
"Studies done on rats showed that Carnosic acid, a natural benzenediol abietan diterpene found in rosemary and common sage, may help the brain by fighting off damage done by free radicals and may help improve recovery in people who have experienced a stroke.
In other studies, improvements in speed, accuracy, concentration and performance were observed following exposure to rosemary essential oil aroma, as the small size of the active compounds may be absorbed through the nasal or lung mucosa and cross the blood–brain barrier producing effects at the neuronal level.
Rosemary isn't just a pleasant herb for cooking, but can easily be added to many dishes, breads, oils and teas. A sachet filled with rosemary can be hung in the closet or placed in clothes drawers to give clothes a fresh smell, or hung in baths and showers for a pleasant scent and possible mood lifter.
Rosemary is a perennial shrub that likes a lot of sun and rich well-drained soil. Plant rosemary in the spring after all danger of frost has past. Once rosemary is established, harvest often to avoid trimming more than 1/3 at a time; cutting back more than 1/3 of the bush can stress the plant. Rosemary is easily dried and saved for later use by placing on a rack, in a dehydrator or tying in bundles and hanging in a cool dark location. After fully dried, remove the rosemary from the branches and store in an airtight glass jar.
Winter care for rosemary in zone 5 is important. After the first hard frost, trim the shrub back to a few inches from the ground. Cover the plant completely with four to six inches of mulch. Watch for new growth in the spring and remover all but about two inches of the mulch as it starts to re-grow.
Rosemary shouldn't be used medicinally by those who are pregnant, as higher doses of it may cause miscarriage. Rosemary may have potential drug interactions, some of which are anticoagulants, ACE inhibitors, diuretics and lithium. Exercise caution and consult a medical professional before using rosemary or any other herbal supplements.
Harvesting rosemary https://youtu.be/cp2GJ_BJPv4