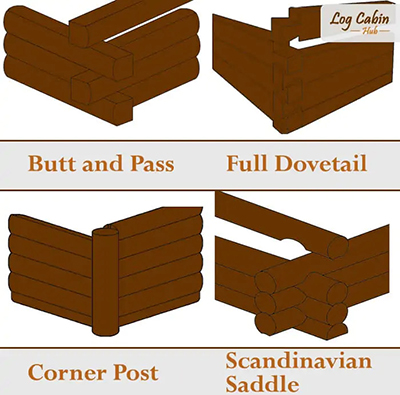 Melondy Phillips
Staff Writer
 
Many important structures had to be built once a family established a new home on the frontier. They could not order a pre-fabricated home from a catalog at that time. Fortunately, nature provided nearly all their building needs, by the abundance of trees and other growth, in the new land.
When selecting a home site, a frontiersman first needed to evaluate the location; was there water and building material nearby and how easy would it be to transport it into place, how were the soil conditions for growing food (low land had higher fertility but more prone to flooding), and was it located in a hostile region? These are just a few of the many factors to be considered. 
Cutting trees by hand, stripping them, and shaping each one to use for building was a very labor-intensive undertaking with simple hand tools. A single man could build the walls of a cabin about six to eight logs high, depending on the log diameter. With help, the walls could be a little taller. A smaller room and lower roof height helped with winter heating, so a balance between the amount of space needed and the ability to heat it had to be considered. 
Logs had to lock into each other so they did not roll apart. For a time, nails were not an option for most frontiersmen. Handmade pegs and manually drilling holes were time consuming and most often used for joining slats and boards for smaller projects or installing framing around doorways, etc., not for joining logs together.
The most traditional way of building a log cabin used a saddle notch. This type of joint/ notch used semi-circular cuts on the underside of the log so that it saddled the log under it. Del Radomske later modified the Scandinavian technique into the compression fit saddle notch, allowing for a tighter fit as the logs settled and shrank over time.
A more time consuming and complicated joint, but much more secure, is the dovetail notch. Cutting trapezoidal shapes into the ends of the logs, so that they interlocked together, was a technique used in Europe for centuries and made its way to the new world. Each notch had to be individually measured and cut by hand to insure a perfect fit. Only those with highly skilled joinery and carpentry experience could effectively produce this joint correctly. Even with the aid of modern jigs and equipment, this beautiful design of true craftsmanship is not commonly seen in log home construction today.
Like the Saddle Notch, the Dovetail Notch requires little maintenance once built correctly and has a low chance of water accumulating or standing on it.
The Butt and Pass notch is today's most common, and easiest to create. It was invented by Skip Ellsworth to be quick and easy and uses a rod driven through the logs at the corner to connect them together. With the Butt and Pass notch the logs are squared off and alternatingly stacked on top of each other. This type would not have been a common sight in colonial times since it is not as water tight as the Saddle Notch and Dovetail Notch, which can lead to early rotting of the wood.
Although easy for modern kit companies to mass produce today, the Corner Post joint would have been very time consuming to create by hand and therefore not very common on the colonial frontier. This type of joint requires great precision and skill. Having an upright corner post using mortise and tenon joint, or keyway slots, is the most difficult of log home notches to make by hand.
The roof construction and maintenance were just as important as the walls for keeping a home dry and maintaining heat in the winter. Using a froe or hatchet, shingles were hand cut for the roof while thatching under the shingles added an extra layer of insulation. 
Gaps between logs were common due to irregularities in the surface of the logs – knots, holes from pests, natural tapers, etc. If someone had more time to work on the building process of their home, these irregularities could be smoothed out using simple tools such as axes, saws or planers, if available. As the logs aged, they became weathered and dried out, causing the chinking to work loose and crumble. Annual repairs and regular maintenance of the chinking and daubing, in every hole and imperfect joint in the log cabin, were required.
Possessing its own style of beauty, the daubing's function was a much-needed insulation.  It also served as a barrier against rain, kept water from pooling on top of the logs, and helped keep vermin out of the home. The daubing gave log cabins the beautiful characteristic of times past which so many consider a hallmark of the era.
Before daubing could be applied chinking needed to be installed. Rigid chinking, often used for larger gaps, usually consisted of rocks, sticks, small pieces of wood, etc.  Soft chinking materials, such as moss, paper, old cloth, and even animal dung, could have been used for tighter spaces. Binders for the daubing included straw, dry leaves, deer/ pig/ or human hair, saw dust, ashes, or shredded paper. Lime was sometimes mixed into the daubing to help ward of insects and snakes. 
Poor families rarely covered the exterior of their log cabin with anything more than the daubing and in the smaller homes a packed dirt floor would have been common. Since open fires stayed burning around the clock throughout part of the year, having dirt floors provided some safety from any sparks spitting out by the fireplace onto a flammable surface. 
Well-to-do families, for both aesthetics and functional reasons, covered the outside of their log homes. Whitewash helped to seal small cracks by filling into them and hardening once it dried. Stucco and clapboards provided better insulation and was a reflection of the family's social and financial status. 
Since glass was expensive and hard to come by at the time, windows in cabins on the frontier rarely had any. Holes cut in into the walls of the cabin allowed light and fresh air inside during the warm months.  Sometimes greased newspaper or cloth, or half-dressed deer hides covered the windows to keep blowing rain out. Shutters were not for looks as most are today. They were an important layer of protection for the settlers, against attacks from people and animals, and as a buffer from the harsh winter winds.