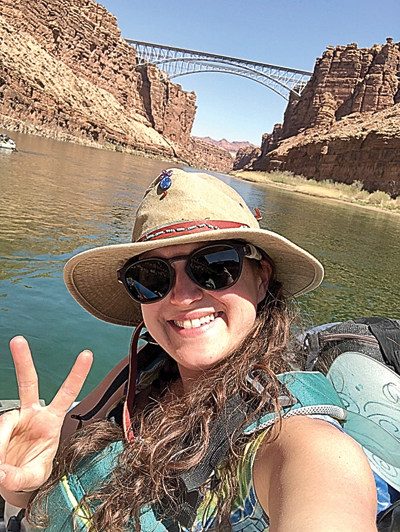 Suzanne Stewart
Staff Writer
Clover Lick native Kelsey Beverage has always been an adventure seeker. She began her career at Snowshoe Mountain Resort at a front desk during her college years, but it wasn't long before she was taking new skiers down the mountain as a ski instructor.
When the winter season ends, Beverage trades her skis for oars. She goes to her other job as a river guide with ACE Adventure at the New River Gorge. She takes rafters – from beginners to pros – down the New and Gauley rivers.
The adventures don't stop there. When Beverage goes on vacation, she doesn't sit back and relax. Her most recent adventure was her second trip down the Colorado River in the Grand Canyon.
Because it is a National Park, there are restrictions on how many visitors are allowed in the Grand Canyon, as well as how many can traverse the river each year.
"It's a lottery system, so almost a year out, you apply for this lottery ticket to get it," Beverage said. "There's different ones you can do. You can pick the time of year. You can pick the size of the permit you want. Ours has been sixteen people both times."
If your ticket is pulled, your group creates an extensive plan and files it with the park services.
Beverage and her group – which included her sister, Kaitlin – went through an outfitter called Moenkopi, which rented the boats and provided a meal plan and house to stay in before and after the trip.
"You give them one fee and that covers the license to be in the park, that covers the rescue fee – you get a free helicopter ride to the rim if you need it – and it includes this giant, twenty person house. It's called the River House. You stay there the night before and the night after you get off the river."
Beverage's trip this past spring took 21 days in which the 16 person group traveled 282 miles down the Colorado River. The boats are packed with supplies – including kitchen and bathroom fixtures – and enough food for the entire trip.
The only way out once the boats are launched is to complete the 21 days or, in an emergency, call for a helicopter for evacuation. The groups are given satellite phones just in case there is such an emergency.
Because the group is on its own during this time – no one with the Grand Canyon travels along – the group gets a book that provides a detailed guide for the entire journey.
"Every five miles you turn the page and it gives a visual, topo drawing of the river on one side and then on the other side, it gives the description of the river," Beverage said. "It just talks you through it. It's up to you to read and run it while you're rafting."
Although she is used to the rivers of West Virginia, Beverage said they're nothing like those in the west, especially the Colorado.
"We have low volume rivers," she said. "The Colorado – that river is massive. I had no idea how big water could really be. I didn't know how hard it would be just to get the boat to the flat water. It would get to the point where you would get out of a rapid and you'd take your hands off the oar to rest a second and the boat would be grabbed by an eddy – a wide spot in  the river – and get pulled over the side of the river.
"It took my sister and I both – and all of our effort – to get the boat rowed back out because it's such a hard thing to get a two thousand pound boat back across the current line," she continued. "It's just exhausting. I could not take my hands off the oars ever to keep the boat going in a straight line."
During the 21-day adventure, there were days the group was not on the river. With a well-planned journey, there were days the group was able to relax at a campsite and enjoy the sights and sounds of the park.
"If you plan it right and you space the mileage right, you're not on the river every day," Beverage said. "We had a couple layover days where we'd pick a site that we liked and we'd stay there for two nights instead of one night.
"Every night you move – it's a zero waste, leave nothing behind, pack in, pack out kind of thing, so you literally take everything out with you," she continued. "You've got to set up the bathroom, the kitchen, the sinks to wash your hands. It's quite the setup. We got to where we could do it really quick. We hit base and got set up in an hour, but still, you had to do that every time."
Unpacking and repacking the boats every time became an arduous task, but the group stayed positive during the chore time, knowing it would be worth it in the end.
During the downtime, Beverage said she played her banjo and the group did other activities such as fishing.
One aspect of the trip that stuck with Beverage was the ever changing sights. Around every turn, there is a new rock outcrop or flora and fauna to see – and even some mountain goats.
"It is so pretty," she said. "Every day, you're like, 'what's going to entertain me for this many days,' but every single day, you see how the rock structure changes. The rapids are different. The camps just get prettier and you get sad because you know you're going to leave the rose quartz section, but then you have no idea how pretty the basalt rocks are going to be.
"It's impressive," she continued. "I had no idea how it could change over that many days. We saw a ton of mountain goats or mountain sheep – we weren't really sure which they were."
On her first trip down the Colorado, Beverage said the Little Colorado was brown and made the water look like chocolate milk during the stretch where it meets the main river. But during her second trip, it was clear.
"This time, we got to the Little Colorado, and it was beautiful, turquoise, Caribbean water," she said.
There are well-known spots that the group stopped at, including Phantom Ranch, a lodge that offers visitors tours and mule rides.
"It's pretty cute," Beverage said. "You can mail a postcard and the cards are stamped saying they are packed out by mules. That's eighty miles in, and there's still two hundred miles to go after that. It's the last time you get to check in with civilization."
With her second trip through the Grand Canyon behind her, Beverage said she wouldn't turn down a chance to go again, but not any time soon.
"Oh, yeah, I think I'll definitely do it again, but it will be a while," she said. "I love it. I think it's awesome and being on this side it – it's easy to think how fun and how beautiful it was – but when you're in it and you're five days from the end of the river – you're done.
"It's awesome, though," she said. "It teaches you about a lot of stuff. I really had no idea how hard it would be. In the good sense of hard, but still, you've got to dig deep to get through it."
When it comes time to share stories about a trip of that magnitude, Beverage said people usually make it a short and sweet story.
"Before I went to the Grand Canyon, I knew tons of people that went, but I didn't really know any solid stories about the happenings and the workings until I was out there, and I figured out why," she said. "Because when you come back, it's so exhausting, you don't want to talk about it. It was a grand trip. It was a great trip. It was a beautiful trip.
"That's usually how they preface their Grand Canyon trip," she continued. "It was awesome. It was great; can't wait to do it again. Because there's so many things that happen, and you don't want to say all the bad things because then it makes it look bad."
Luckily, Beverage was in the sharing mood.
"It's such a long trip, but life-changingly great," she said.