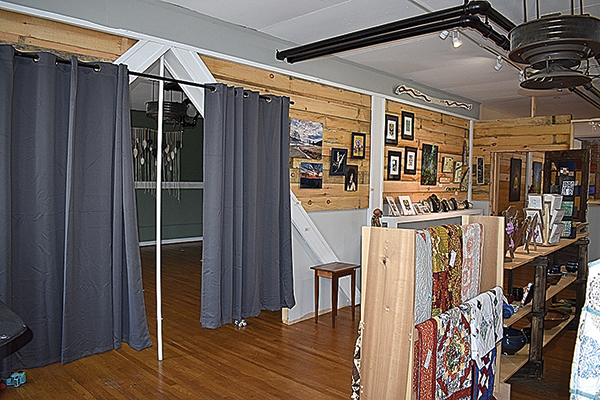 Suzanne Stewart
Staff Writer
 
The C.J. Richardson building in Marlinton is one of the most iconic pieces of architecture in Pocahontas County. The four-story aqua building has seen a lot since it first opened in 1905. It remained a constant in the county seat as businesses, residents and disasters came and went.
When C. J. Richardson Hardware closed in early 2020, there was a fear the building would never see customers enter it again, or worse, the building would be torn down or fall into disrepair.
Fortunately, those fears were put to rest when the building was bought by Revitalize Marlinton, a business owned by Bob Safrit and Daniel McKee. The business partners have purchased several buildings in Marlinton and have transformed them into shops for local businesses like Greenbrier Bikes and Handmade WV Market. They also had several buildings demolished to make way for new businesses in the future.
As for the Richardson building, it has been transformed into a home for several new businesses – artist studios, a yoga studio, music venue and caféś.
One business owner is Safrit's wife, Alison, who helped develop the second floor studio space for her pottery and other local artists and retailers.
"As far as upstairs, it really lends itself to a yoga studio, gallery and also having a chance to have artists work," she said. "It seemed that was what it was supposed to be."
The upstairs has Little Mountain Yoga studio, with classes led by Alison and Laurel Dilley. Next to the studio is Alison Pottery Gallery. There are five artist studios where visitors can watch the artists create as well as purchase their artwork. Artists in residence include Alison, Katie Workman, Cyla Allison, Cris Bartlett, Makinsey Poeppel and Peggy Owens.
Another studio will be open soon for artists Bret and Lori Doolittle.
Across from the studio spaces is Mountain Echo Souvenir and Gift Shop, owned and operated by Poeppel, as well as the soon to be open candy shop owned by Lauren Bennett.
"It definitely takes a village," Alison said, of the list of people involved. "We're happy with everybody that's here now. The building has a good vibe." 
And that's just the second floor.
On the first floor, there is a stage to the immediate left of the front entrance and there are plans for lots of live music and entertainment. To the rear of the first floor, Stacy Sith is opening a coffee shop and cafe.
There is plenty more space in the building, but Alison said they are taking their time organizing ideas and working on possibly opening more space for small businesses and artists. 
"We are always taking applications for spaces," she said. "It's on a month-to-month lease agreement, so if somebody leaves, we can bring somebody else in. We're also thinking about possibly the third floor being artist studio spaces as well in the future, depending on how many interested people we find. 
"There's room – not this year, but in the future."
While the building will always be lovingly referred to as Richardson's, Alison said they have named the building Rivertown and invite everyone to visit The Shops at Rivertown.
Rivertown officially kicked off the summer season July 5 with a performance by Juanita Fireball and the Continental Drifters. Alison said it feels right to have this be the inaugural performance on the stage considering Richardson's former owner, the late Terry Richardson, was a beloved member of the band.
Juanita Fireball, aka Mike Burns, and "Lulu," Mary Sue Burns, will return to Rivertown and host a jam session on Saturday, July 8, during Pioneer Days. Both performances are free. 
The next performance will be part of the August First Friday, featuring Switch. The show will be open to all ages and will serve as a back-to-school party for the youngsters.
 
"We're excited," Alison said. "We're going to have a couple more bands coming in into the fall and next year. We'll hopefully have a full schedule where we have somebody once a week. We're working with the Opera House and [Old Mountain Tavern] to make sure we aren't scheduling the same night they have something."
The Shops officially opened Memorial Day weekend and many visitors have already shared their excitement for having new life in the building.
 
"We've had so many people – locals and people who have second homes or cabins or grew up here – come in and with tears in their eyes, they're talking about how much this building was the central part of life here. People are very excited and that helps us because it lets us know we're doing something good. All this time and energy is worth it."
 
The Shops at Rivertown are open Wednesday through Monday, 10 a.m. to 6 p.m. Alison Pottery is open Thursday, 10 a.m. to 4 p.m.; Friday, 10 a.m. to 5 p.m. and Saturday, 11 a.m. to 4 p.m.