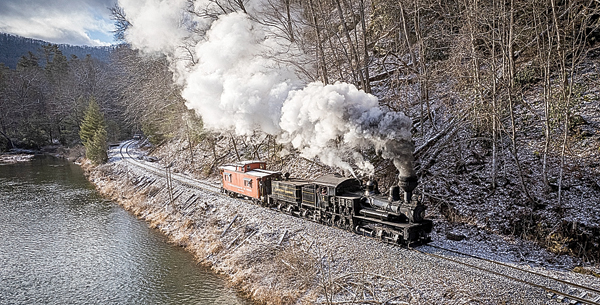 Suzanne Stewart
Staff Writer
 
Durbin Greenbrier Valley Railroad President John Smith first presented his plan for the Highland Adventure of Mountain and Rails excursion connecting six counties through trains and trails in 2012 at a Chamber of Commerce After Hours in Cass.
The plan was to create a 90-mile loop connecting the Cass Scenic Railroad, Durbin Rock and Salamander trains to create a one-of-a-kind scenic ride. 
The first phase of that plan was completed February 1, 2023 when Shay No. 5 pulled a caboose from Cass to Durbin on the restored track. 
The journey to that moment was long and arduous, with lots of manpower put into repairing flood damaged track and building a new bridge over Trout Run to complete 15 miles of new line. The project began in 2016. 
"[February 1] was the very first train we've taken over the bridge," DGVRR media specialist Walter Scriptunas said. "We went all the way to Durbin, and we brought the Heisler – which has been in Durbin the past seven seasons pulling the Rocket – back to Cass." 
In 2020, Smith said one of the reasons he wanted to open the Cass to Durbin excursion was to extend the season and provide more opportunities for people to experience the historic trains. 
"It will be a regular run," Smith said. "It will be an add-on out of Cass. In other words, Cass is the centerpiece of steam locomotives. You can never go anywhere to find steam locomotives in operation. The problem with Cass is it's strictly a summertime venue. Once you get partway up the mountain, it's too cold come November and you can't stand it, so we're trying to expand the operating season at Cass into the winter, give more options for the summertime travelers and, hopefully, increase the traffic at Cass and in Durbin, as well." 
The line was originally used by the Chesapeake & Ohio Railway in the 1900s, when trains were used for transportation and commerce. The train brought wares to the town of Durbin and, in some cases, the only mode of transportation for residents of small lumber towns that popped up during the logging boom.
Now that the line has returned to its glory, plans are underway for excursions, which are slotted to begin in April. Scriptunas said tickets should go on sale by late February for a Cass to Durbin ride. 
"Next week, we're running another test train with passenger cars to get the timing and figure all that fun stuff out," he said. "We plan for a layover in Durbin – hopefully forty-five minutes to an hour – so people can eat, browse the local stores, and see the town. We're shooting for about four-and-a-half hours' total."
It's been more than a de-cade since Smith first presented his plan and now that the line is complete, everyone involved is ready for people to experience the new line. 
"It's going to be incredible," Scriptunas said. "There are so many potential events we can do on the line. It's going to open so many possibilities. I think it's going to be great for the county and the state. It's going to be a lot of fun for everybody. The guys that have worked on it have a lot to be proud of."
For more information on the new excursion and to buy tickets, visit https://mountainrailwv.com/