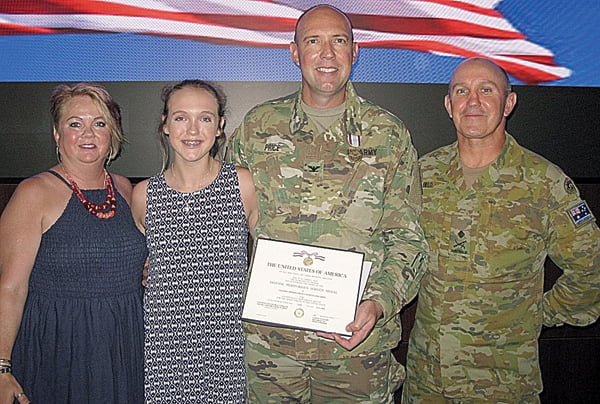 Major General Field, of the Australia Military, presented the Defense Meritorious Service Medal to Colonel Jeffrey Price July 12, 2018, at the completion of his assignment at U. S. CENTCOM [U. S. Central Command]* at MacDill Air Force Base in Florida.
The award, authorized by the Secretary of Defense, is presented for exceptionally meritorious service for the Armed Forces of the United States, and is awarded to service members assigned to joint, multi-service organizations.
The Citation accompanying the award reads:
"Colonel Jeffrey Price, United State Army, distinguished himself by exceptionally meritorious service as Chief of Joint Operation Center, Current Operations Directorate, United States Central Command, MacDill Air Force Base, Florida, from 28 June 2017 to 30 July 2018. During this period, Colonel Price displayed outstanding professionalism leading the Command's Joint Operations Center in support of Operations Resolute Support, Freedom's Sentinel and Inherent Resolve. Working in a fast-paced environment, he expertly orchestrated the actions of over 40 watch standers and provided the Command Group with time critical and actionable information on joint combat operations throughout United States Central Command's Area of Responsibility.
Additionally, he oversaw a number of focused operations, resulting in the degradation of extremist organization leadership. Finally, he was directly responsible for analyzing and synthesizing operational data thereby greatly enhancing the situational awareness and decision making for the President of the United States, the Secretary of Defense, the Joint Staff, and the Commander, United States Central Command.
The distinctive accomplishments of Colonel Price reflect credit upon himself, United States Central Command, the United States Army and the Department of Defense."
The Headquarters of United States Central Command was also recognized and received the Joint Meritorious Unit Award from the Chairman of the Joint Chiefs of Staff for exceptionally meritorious service.
Colonel Price, who is from Marlinton, enlisted in the Army Reserves in March 1988. He deployed to Kabul, Afghanistan, in 2012 and worked at U.S. Forces –Afghanistan (USFOR-A) HQ in the Operation Directorate as the Deputy Director for Future Operations.
He is currently stationed at the Pentagon, working in the department of the Under Secretary for Personnel and Readiness.
Colonel Price and his wife, Donna, and daughter, Lexi, reside in Lutz, Florida.
*The U.S. CENTCOM area of responsibility (AOR) spans more than four million square miles and is populated by more than 550 million people from 22 ethnic groups, speaking 18 languages with hundreds of dialects and confessing multiple religions which transect national borders.