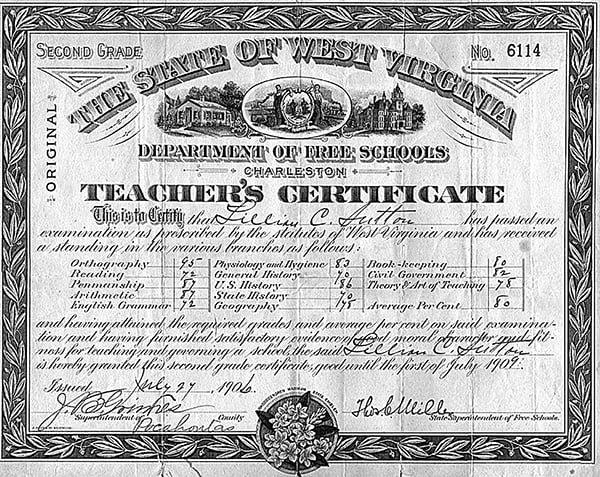 This West Virginia Teacher's Certificate was issued July 27, 1906 to Green Bank graduate Lillian Gabbert Sutton, of Arbovale. It states the following:
"This is to certify that Lillian C. Sutton has passed an examination as prescribed by the statutes of West Virginia and has received a standing in the various branches as follows:
Orthography – 95, Reading – 72, Penmanship – 87, Arithmetic – 87, English Grammar – 72, Physiology and Hygiene – 83, General History – 70, US History – 86, State History – 70, Geography – 78, Book-keeping – 80, Civil Government – 82, Theory & Art of Teaching – 78. Average percent – 80.
And having attained the required grades and average per cent on said examination and having furnished satisfactory evidence of good moral character and fitness for teaching and governing a school, the said Lillian C. Sutton is hereby granted this second grade certificate, good until the 1st of July, 1909."
It is signed by Pocahontas County School Superintendent J. B. Grimes and Thomas Chancellor, State Superintendent of Free Schools. (Sutton Family Collection, ID: PHD000080)
Access the "Preserving Pocahontas" Digital Library at www.pocahontaspreservation.org or www.preservingpocahontas.org If you have photographs or documents to be scanned for the county Historical Archive contact Preservation Officer B. J. Gudmundsson at 304-799-3989 or email info@pocahontaspreservation.org Prints of photographs from the archives are available.