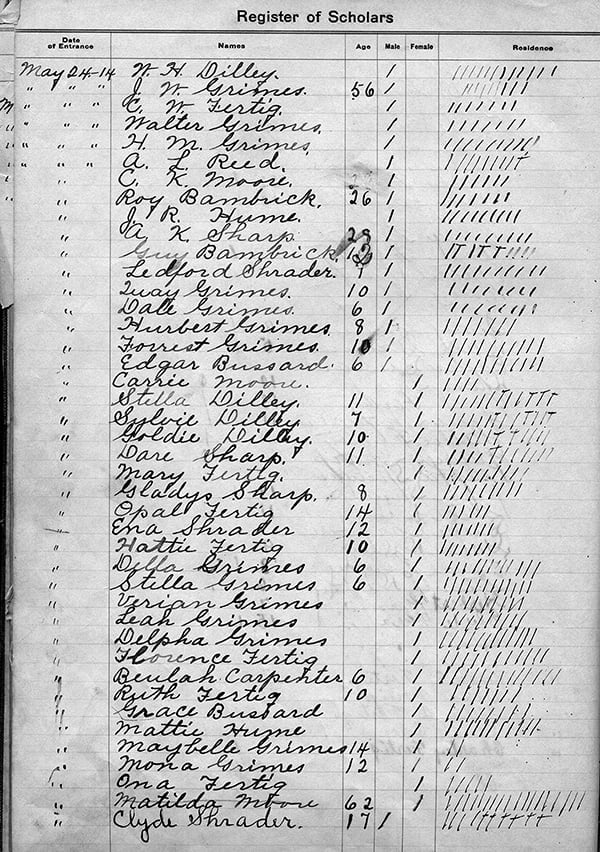 This page from the Mt. Zion Church Record of Scholars shows the membership list as recorded on May 24, 1914. The record includes name, age and gender. Names are as follows: W. H. Dilley, J. W. Grimes, C. W. Fertig, Walter Grimes, H. M. Grimes, A. L. Reed, C. K. Moore, Roy Bambrick, J. R. Hume, A. K. Sharp, Guy Bambrick, Ledford Shrader, Quay Grimes, Dale Grimes, Hubert Grimes, Forrest Grimes, Edgar Bussard, Carrie Moore, Stella Dilley, Silvie Dilley, Goldie Dilley, Dare Sharp, Mary Fertig, Gladys Sharp, Opal Fertig, Ena Shrader, Hattie Fertig, Della Grimes, Stella Grimes,Verian Grimes, Leah Grimes, Delpha Grimes, Florence Fertig, Beulah Carpenter, Ruth Fertig, Grace Bussard, Mattie Hume, Maybelle Grimes, Mona Grimes, Ona Fertig, Matilda Moore and Clyde Shrader.
Mt. Zion Church is located in the Hill Country between Dilley's Mill and Frost. The log structure was built on land deeded by Charles and Martha Grimes in 1836 and the church was active until about 1958. Many past members are buried in its cemetery and the church is still used today for homecomings and special services.
The 2017 Homecoming will take place on Sunday, September 10, with worship service beginning at 11 a.m. ID PHD000362
 
Access the "Preserving Pocahontas" Digital Library at www.pocahontaspreservation.org  or www.preservingpocahontas.org If you have photographs, slides, negatives or historical records to be scanned for the county Historical Archive contact Preservation Officer B. J. Gudmundsson at 304-799-3989 or email info@pocahontaspreservation.org  Prints of photographs are available.