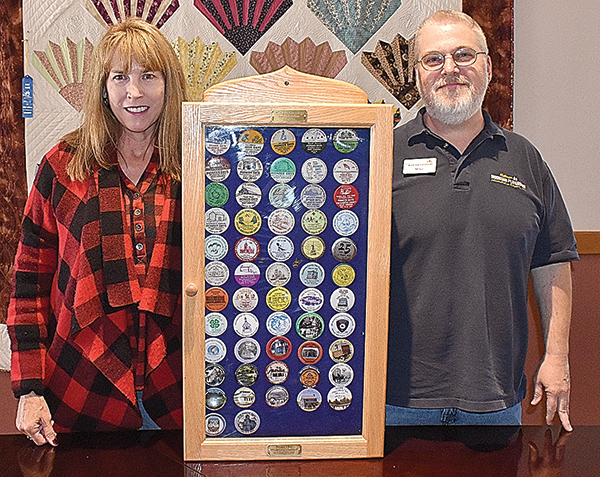 Suzanne Stewart
Staff Writer
It's been a staple of Pioneer Days since the first celebration was held in Marlinton in 1967 – the badge. It's technically a button which features a landmark each year as part of the Pioneer Days festival.
The badge used to be the way festival goers gained access to displays and activities. Now, it is a symbol of a decades old tradition of collecting one each year.
One of those collectors was the late Bernice Underwood Johnston. Bernice was the daughter of Emily North, of Buckeye, and Delmar Underwood, of Trout. Although, as an Army wife, she lived all over the world, Marlinton was always home to Bernice.
Each Pioneer Days, whether or not she was able to attend, Bernice made sure she got a badge. 
Last week, Bernice's daughter, Carolyn Stringer, brought Bernice's collection of badges – arranged in an oak shadow box – to the Pocahontas County Convention and Visitors Bureau to be displayed.
The shadow box was made by inmates at Denmar Correctional Center, and Stringer said Bernice was so happy with the craftsmanship.
"She had it hanging on the wall for years," Stringer said. "She passed away in August. We had talked to her about different things to do with it and came up with the idea. We got to tell her what would be happening with it, so she was very glad that it would be enjoyed."
Stringer is one of four children – David Johnston and Michael Johnston and the late Richard Johnston. Two of the boys were born in Marlinton, and Stringer and her twin were born in Fort Knox, Kentucky.
"When we were babies, we lived here some in Marlinton," Stringer said. "So anytime we came to town, when it was Pioneer Days, oh boy. They had the big square dances and they had the fiddle contest and all the bluegrass contests."
The shadow box has a plaque at the top stating it is a collection of Pioneer Days badges from 1967 to 2023 and a plaque at the bottom in memory of Bernice.
Stringer was joined by family friend, Debbie Yates, last week when she presented the shadow box to CVB visitor's specialist Mike Moore.
There is space in the shadow box for three more badges and Stringer said she hopes the CVB will continue to add to the collection, knowing that her mother would approve.