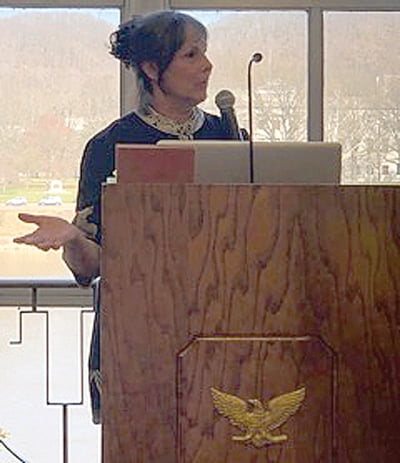 Phyllis Lubin-Tyler
Contributing Writer
Although its been a tough winter, I am happy to share with you that the first  2019 "on the road" event was a success.
The University of Charle-ston Builders Luncheon in the Erma Byrd Gallery was exciting for all. It was attended by approximately 120 people, 95 percent of which were women!
UC Builders  hosts spring and fall luncheon meetings as well as three or more Book and Author luncheons each year.
UC Builders board member Mary Lu MacCorkle invited me to attend and talk about Pearl S. Buck.
The guest speaker for each luncheon is typically someone associated with the university, a visiting scholar or a West Virginia author.  So, I was quite honored to be invited to speak about Pearl.
Wow, how does one choose "what" to focus on about Pearl? There's so much to explore.
I spent many an hour really meditating on the topic.
It came down to her "roots" here, her Birthplace, The Stulting House and the Sydenstricker Cabin and  tying it all in with the two biographies – The Exile and The Fighting Angel – of mother and father respectively.
The Exile and The Fighting Angel were a big part of Pearl's 1938 Nobel Prize for Literature, "for rich and generous epic description of Chinese peasant life and Masterpieces of biography."
The topic was warmly received by everyone at the luncheon and stirred new interest in visiting our "gem of a place" here.
The Pearl S. Buck Birthplace is open for tours beginning on Mother's Day weekend through the last weekend of October.
Phyllis Lubin-Tyler is the head tour guide and fount of knowledge at the Pearl S. Buck Birthplace.