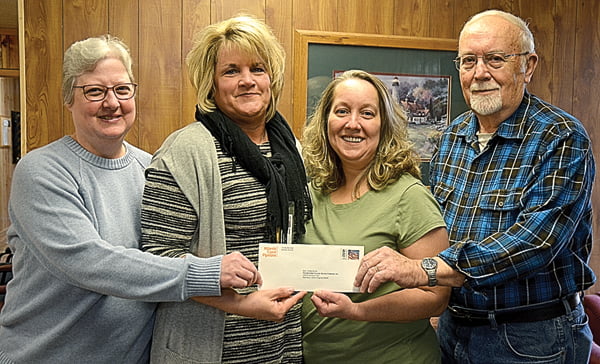 Laura Dean Bennett
Staff Writer
Pocahontas County Senior Citizens, Inc. received a $3,500 donation from Dominion Energy Tuesday. Robin Mutscheller, who serves as Dominion's Energy Technical Support Supervisor at its Bath County Pumped Storage Station, and Atlantic Coast Pipeline Liaison Denise Campbell presented the check to PCSC Fiscal Officer Dotty Brock and Executive Director John Simmons at the Marlinton/Edray Senior Center.
The donation will be used for meals and transportation, as needed, for seniors, as well as to help cover costs for the annual Veterans Day Dinner at the Pocahontas County Opera House. PCSC, Inc. is a co-sponsor of that event.
In addition, Pocahontas County Senior Center, Inc. received $1,000 in 2018 from the Bath County Pumped Storage Station and more than $1,000 in employee contributions, which were matched by the Dominion Energy Foundation matching grant program, bringing the total donation to Pocahontas County Senior Citizen programs 2018-2019 to $6,500.
Simmons expressed his appreciation, especially in light of the cuts that have been made in the last few years to West Virginia's Senior Programs.
"We really appreciate this," he said. "If it wasn't for generous donations like this, I don't know how we could keep going."
Campbell explained that the goals of the ACP and Dominion Foundation is to help strengthen communities and promote education.
"There are five counties in West Virginia – Pocahontas County included – which qualify to apply for ACP grants," she said.
"We're very pleased to be able to help out in our local communities."
Brock said the donations from Dominion Energy and the ACP really make a difference to our senior citizens.
"It's not easy to stretch our budget to cover all our expenses," she said, "but we always find a way to do it.
"We feed people every day and take care of them as best we can at our centers and with our Meals on Wheels Program. Currently, there are seventy clients in our Meals on Wheels Program. And we do a good job of serving them. One thing we have going for us, is that we really have good people working for us."
Simmons agreed.
"Our employees are some of the best employees I've ever worked with," he said.
A new fundraising effort will begin next month with the annual "March for Meals."
Each of the three Senior Centers in the county will hold fundraising events.
"March for Meals is a nationwide fundraising effort sanctioned by the National Senior Citizens organization, which is our national organization," Simmons said.
"Besides raising money to help defray expenses of our programs, it will be a good opportunity to raise pubic awareness about senior hunger in the United States.
"We just want everyone to know about the real need that exists, and the services we provide to help take care of our senior citizens.
"And we want people to know how grateful we are for their generosity in helping us to do this work.
"Today, we want to thank Dominion Energy and the Atlantic Coast Pipeline for their significant contributions," Simmons added.