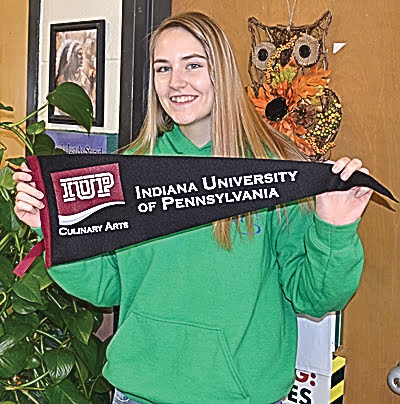 Suzanne Stewart
Staff Writer
Being in their last year of high school, seniors have a lot of things to stress out about before graduation. For senior Jennell Cassell, one of those stresses has been alleviated with her acceptance to Indiana University of Pennsylvania Academy of Culinary Arts.
Cassell began her culinary journey as a freshman when she had to choose between ProStart and drama. She chose the first and quickly found a desire to learn more.
"The first year I was in it, I really enjoyed it," she said. "I was like, this is something I really want to stick with.' [Teresa] Mullen does her own little cake business. I've seen what she has done and thought it was pretty awesome. I'd like to do that. She's kind of been my inspiration to get into the baking industry."
Cassell was on the ProStart team last year when they competed in the Hospitality Cup – a competition the team will return to this year.
"I did the dessert for that and will do it again this year," she said. "I prefer baking over everything else. I definitely have to do the other stuff, too, though."
After graduation, Cassell will take her skills to Punxsutawney, Pennsylvania, for the 16-month certificate program at IUP.
"It's a sixteen-month program, but for the last four months you're there, they place you in a workplace somewhere, so you can get work experience and earn money," she said.
Cassell is no stranger to balancing work and school. She has worked at Big Spring Fork, Last Run Restaurant and the Cass Company Store.
After receiving her certificate, Cassell isn't quite sure where she will end up, but she has plenty of time to figure that out.
"Somewhere along the line, I want to do what Ms. Mullen does – make cakes for people," she said. "I definitely want to do that at some point. I'll probably keep my options open."