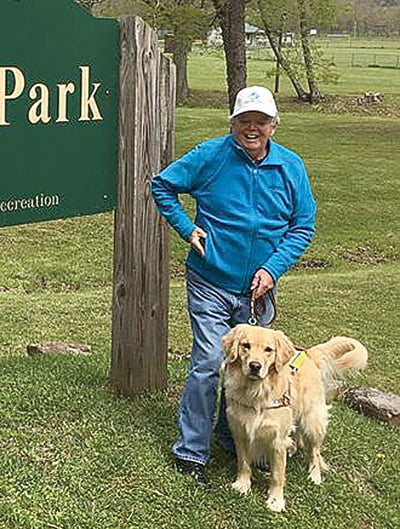 Suzanne Stewart
Staff Writer
Since March, people have learned to adapt – to socialize, work and entertain themselves online. There's no shortage of creative ways to safely participate in events while social distancing.
One event – the Leader Dogs for the Blind 5K – has become a virtual 5K. Instead of the usual crowd that comes with a 5K, a virtual version sees the participants going out on their own to walk, run, bike, swim – and in this case, doggy paddle if they so desire – 3.1 miles to complete the even.
Pocahontas County Parks and Recreation board member Roger Trusler – who received his Leader Dog Koda last fall – asked his fellow board members to participate in the 5K to help raise funds for the worthy cause.
"He was hoping we could somehow help them out with their fundraiser," Parks and Rec director Lauren Bennett said. "It's for anybody who wants to be a part of it. They can join our team."
The 5K started April 29 and will end May 29. Participants have that time to complete their 3.1 miles.
Right now, the Parks and Rec team consists of Bennett and Nancy Martin, but there is always time to sign up for the final weeks of the race. Those interested can visit secure.qgiv.com/event/xrdd6j/ or find the link on the Parks and Recreation Facebook page. From there, you can join the team and help raise funds.
"My goal is to, one day this weekend, put all four of my dogs in my canoe and to float the three point one miles down to Buckeye," Bennett said. "I'll call that my 5K. We'll see how that goes."
Four dogs and a person in a canoe sounds like a large crew, but Bennett said she's not worried about the load.
"It is a big canoe," she said, laughing. "Lots of room. We may all be doggy-paddling by the time it's all said and done."
Bennett added that Parks and Rec will be doing drawings for those who participate on the team. Those who join will have to share a photo on Facebook of them doing their "race," and they will be eligible for vouchers for free classes and free fitness memberships at the Pocahontas County Community Wellness Center in Marlinton.
For more information on the 5K, visit the Parks and Rec Facebook Page and click the link in the post about the Leader Dog 5K.