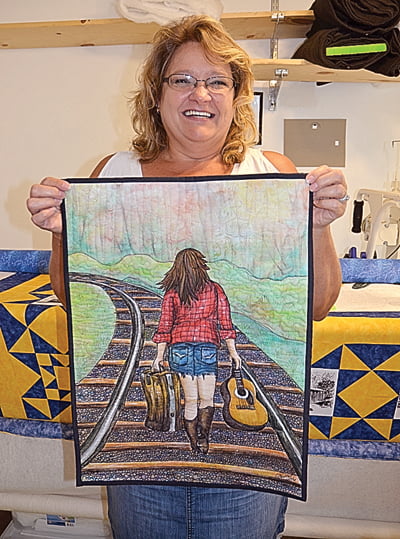 Laura Dean Bennett
Staff Writer
Diana Beverage began her love affair with quilting when she learned to sew a quilt for a 4-H project when she was just 12 years old.
That 4-H project taught her how to quilt, and, as they say, the rest is history.
Where her talent for quilting came from, she doesn't know.
"There are no quilters in my family," Beverage said. "I'm the only one.
"My mother was a good seamstress, but she never quilted.
An elderly neighbor lady in Randolph County show-ed her how to make that first quilt, and now Beverage is a famous West Virginia quilter with many ribbons and awards to her credit.
Both she and her husband are from Mill Creek in Randolph County.
He was a coal miner, then logger, and now, a coal miner again. They were married in 1981. He works at Arch Coal Company in Philippi.
They moved from Huttonsville to Marlinton about six or seven years ago.
They have two sons, Adam and Travis, and three grandchildren.
Her two sons practically grew up under her quilting frame.
"It was the perfect place for the boys to have a fort and to play cars," she said.
Beverage makes everything from king-sized quilts, down to her small-sized wall hangings called "art quilts."
She makes a lot of baby quilts, memory quilts and specialized thematic quilts.
To honor her native state, she makes "West Virginia Quilts," featuring blue and gold fabrics, complete with famous scenes from around the Mountain State.
And to honor coal miners like her husband, Beverage makes "Coal Miner Quilts," covered with scenes of coal mining.
"The first coal miner quilt I ever made was a gift for my husband to thank him for going back into the mines so I could quit my job and go back into quilting full-time.
"Larry went back into coal mining in 2013, so we'd have enough income that I could re-start my quilting business," she recalls.
"I had a small arts and crafts shop in Mill Creek in the 90s and, originally, I intended to set up another shop. But I thought about it, and realized that I'd never get anything done because I'd be visiting with everyone all day. I can't quilt and talk at the same time."
So, she set up a workroom in their home, and that's where you can find her most days, standing at one of her two quilting machines or occasionally sitting down to do some piecing.
"I used to paint, too," she said. "When people tell me I should go back to painting, I say 'no,' I enjoy quilting so much more.
"Like quilts, each of my paintings had a story, but I think the stories behind my quilts are a little bit better."
Beverage had always said she'd never use a machine.
"I was a hard-liner about hand-quilting all my life," she said.
She's made dozens of handmade quilts in the 80s and 90s, then she got into working in retail. She was manager at the Dollar General Store in Green Bank.
"With working twelve-to-sixteen hour days, I didn't have time to quilt," Beverage explained. "I had to let the quilting go for a while."
Her husband's aunt, Lois Ann Beverage, was also a hand-quilter.
She was the first to inspire Beverage to get a machine. Lois Ann had some surgery and couldn't hand-quilt for a while.
"I thought I'd buy a long arm quilting machine to finish my tall pile of unfinished quilts, and maybe lift Aunt Lois' spirits a little bit," Beverage said. "You know, give her something new to learn.
"My friends said, 'but you said you'd never make machine quilts!'
"But, I changed my tune. I got my first long-arm quilting machine and proceeded to teach myself how to use it. I watched a lot of You-Tube videos."
Moving from hand-quilting to using a machine was far from a painless transition.
"The first few days of using my first long-arm quilting machine were rough," she said. "I must have called it every name in the book, and I was ready to ship it back!"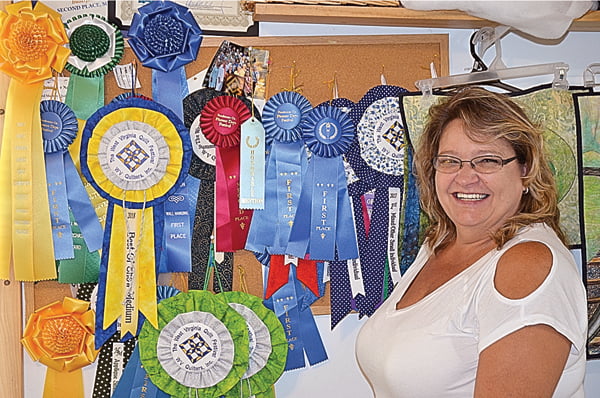 The first set of quilts she made on the machine were made for Dr. Lee, Lois Ann's doctor in Lewisburg. They were lap quilts for some of his patients.
And, as for Aunt Lois?
"I finally got her to play with the machine one time- – but it scared her, and she hasn't wanted to play with it since," Beverage said, laughing.
"So, Lois Ann is back to her hand-quilting now, and I'm still machine quilting."
After three years of trial and error and teaching herself how to use the long arm quilting machine, Beverage finally got some expert instruction from a master.
She went to a three-day class with Karen McTavish, who is well known in competition quilting circles.
"That retreat with Karen McTavish was really beneficial," Beverage said. "She's definitely been an inspiration to me.
"It was those classes with her that gave me the courage to quilt for other people, and to enter quilt contests."
"Now, I can honestly say, 'I'll never go back to hand-quilting.' I can get so much more done with a machine."
Her first long arm quilting machine had an 18-inch throat – which indicates the width of the quilting area – and a 10′ frame length. Her new machine is much larger, and even more expensive.
"I still use the old one for custom quilting and smaller projects," she said.
In the five years that Beverage has been machine quilting, she estimates that she's made about 50 or 60 quilts of her own.
"I make about 10 a year, but that doesn't count the ones I finish for other people!" she added.
First, for those of us who don't know, Beverage explains modern quilting terms.
"There are quilters, and then there are quilt makers," she said. "I do both."
The difference is that quilters finish quilts by taking a completed quilt top, adding batting and quilting on the backing to "finish" it, whereas a quilt maker designs a pattern, or uses an existing pattern, and pieces the top him-or-herself.
That's right – not all quilters are women.
"I've finished two quilts for an 83 year old man in Virginia," she said.
"He does all the hand piecing and the hand applique work himself. And he does excellent work. He shows at the Summersville show. He saw my work there, and that's how we met."
There are people who just like to piece the tops. They pay others to quilt or finish the project for them.
Beverage said it was the same way back in the old days.
One lady would enjoy "piecing" and a friend or family member would do the finishing, or the "quilting."
It's the same today, except since the invention of these long-arm quilting machines, it's a little more high tech.
Beverage uses her expertise on her machines to make all kinds of custom quilts.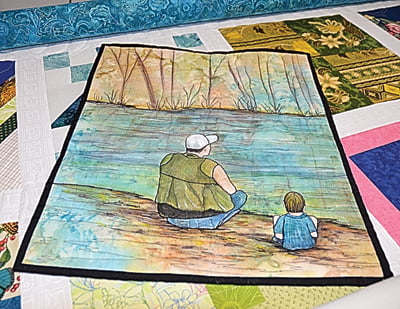 She usually makes one or two memory quilts a year.
A memory quilt is one specifically designed to evoke special, personal, memories.
It might contain pieces of a beloved grandma's well-worn pajamas, a deceased dad's favorite shirts or T-shirts from grown-up children.
Beverage gets a tear in her eye as she tells about the lady who came to her with the baby clothes of a baby who had passed away.
"She asked me to make a quilt using those precious things," Beverage said.
"And that quilt means a lot to her. The minute she touched it, she said: 'You've really given me some closure. And since then, she's told me that all the children in the family love that quilt, too."
"That's why I do what I do.
'It's those special, heartfelt quilts that are the most rewarding to make. They mean so much to the families."
Beverage puts a label on every quilt she makes or finishes for someone else – something to make it even more meaningful.
It contains information about what the quilt means – a date and a little bit about the person the quilt is about and where the pieces for the top came from.
She said the most fun to make are her art quilts. The technique she uses is called thread painting in which she uses ink intense pencils.
She starts with a photo, enlarges it and traces it to make a pattern.
Once she has the size the customer wants, she colors the image with the ink intense pencils and then starts quilting.
Sounds easy, right?
Not so much.
"This process is very labor intensive," Beverage explains. "People don't realize how much time it can take. It can take as long to make a small art quilt as a large regular quilt," she said.
Beverage's talent has brought her a lot of awards.
This summer at the 42nd Vandalia Gathering Quilt Show in Charleston, sponsored by the West Virginia Division of Culture and History, Beverage's "In The Field" won Second Place in Wall Hangings and also the Purchase Award.
This means that her quilt was purchased by the Division of Culture and History and has become part of its permanent collection.
That particular quilt started out as just an idea in Beverage's head.
Sitting on her pretty back porch, one can see where she got her inspiration.
Off across the field is a charming, if rusty, old truck which has been sitting there for who knows how many years.
"It's been talking to me for years," Beverage said.
She used it once as a backdrop in some photographs of her quilts.
Then one day, she decided: "This is it! I'm going to put that old truck into a quilt."
And that's the story behind "Into the Field."
This is the second of Beverage's art quilts the Culture Center has purchased.
Her first award-winning art quilt was "Just Walk Away."
It won First Place in 2015. It, too, is in the permanent collection in Charleston.
The picture in "Just Walk Away" is of a girl walking down a railroad track, carrying a guitar case.
"The photo was taken by a good friend of mine, and the girl is her niece," Beverage explains.
Beverage's very first art quilt was a study of daisies. It was made in 2004 from a photograph taken by her friend Aubrey Carter.
"I like the personal touches I can put into quilts," she said. "I could include more computerized quilting, but I like to do mine in a more personalized way."
Beverage belongs to a several quilt guilds and clubs, such as the UFO Quilt Club in Hillsboro, Elkins Log Cabin Quilters, the West Virginia Quilters and a national group, the American Quilters Society.
West Virginia Quilters sponsors an annual show the third week of June in Summersville at the Convention Center at the Armory and usually has 125 to 175 quilts entered in that show.
"Just Walk Away" won Best of Show there in 2014.
Diana spends a week there every summer, showing her quilts and teaching classes. She's also part of the hospitality committee – greeting visitors and contestants and she's also part of the "white glove police."
She does a show with the Elkins Log Cabin Quilters at the YMCA during the Forest Festival in Elkins.
Here in Pocahontas County, Beverage enters her quilts in the Pioneer Days and Harvest Festival shows.
"I don't enter shows for the ribbons," she said, although her growing ribbon wall would certainly attest to the award-winning quality of her work.
"But really," she adds, "I want to inspire others to take up quilting."
"I encourage people to enter their quilts in shows. It makes me feel good to know that I helped someone win an award.
"I tell people who are scared to enter a competition what someone told me when I started, 'Just remember, a judge's opinion is just one person's opinion. Don't take it personally.'"
From October through December, Beverage stays busy helping other people finish their quilts for Christmas presents.
"It's a fun job," she said. "I enjoy it. I hold my breath sometimes until the end of a project. And every time I start a new quilt for someone, I hold my breath and say a little prayer."
There's a story behind every quilt.
"The first customer quilt I ever did was for Liz Gay," Beverage recalls. "It was a Drunkard's Path pattern. She had the top pieced, and I used the long arm machine. It was my first official machined quilt.
"When I got my second machine, the big machine, the first quilt on that machine was also for Liz Gay. That's appropriate I guess. Both of those quilts will always be special to me."
Unless she is sitting down doing piecing, her quilting has Beverage standing up at one or both of her machines for eight-to-12 hours a day.
"Having two machines is great," she said. Its like I've been cloned. A good day is when I have two quilts going – one on each machine.
"No way I'd go back to hand quilting. I was a die hard hand-quilter all my life – until I started working on a machine. Now I'll never go back. I just couldn't do by hand what I can do on my machines."
For those who can't get to her classes at the Summersville show, Beverage holds classes with some of her quilt guilds, and she will also give private classes.
Beverage teams up with Deb Ann's Fabrics to do classes twice a year here in Pocahontas County.
The "Spring Into Quilting" class is held in May at the Campbelltown school house.
"Fall Into Quilting" is a three-day retreat held in October at the Community Wellness Center.
If this story has whetted your appetite for quilting, you can sign up for a class with Beverage at debannsfabrics.com
Or get in touch with her at wvartcents@gmail.com