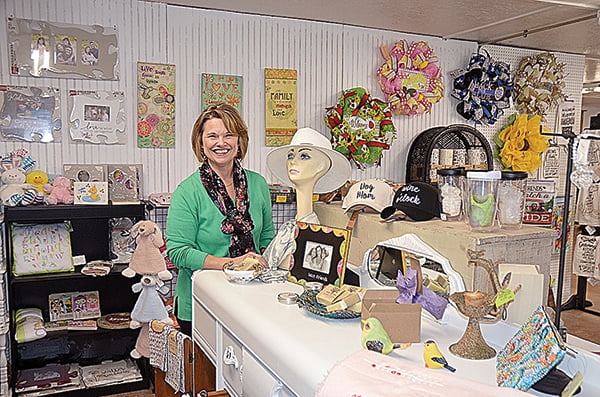 Laura Dean Bennett
Staff Writer
Our Town Boutique is new to Marlinton, but the idea behind it is an old one.
"I like to work with the public, and I wanted to do something for my community," owner Jill Wong said.
"Ever since I moved here to be with my mom, I knew I wanted to open a business."
Wong greets her customers with a welcoming smile.
"The shop is a work in progress," she said. 
"I'm going to try to keep it filled with local handmade items, interesting clothing, gifts and things that I think people here will like.
"It's taken a while to get to it, but I've been thinking about opening up a shop in Marlinton since I moved here about three years ago."
Wong is the daughter of Jerry and Bobbie Rider, whose beautiful home on Rt. 92 South has long been a showplace, and a place of welcome and hospitality to friends.
After her father's death, Wong decided to move to Pocahontas County to be with her mother.
"I started taking an interest in the civic life of our community as soon we got settled here," she said.
She and husband, Albert, a physical therapist at Pocahontas Memorial Hospital, moved to Pocahontas County from Culpepper, Virginia. 
Our Town Boutique carries gifts – like fancy tea towels, handmade soaps and jewelry, wreaths made by one of Wong's friends, clothing such as easy-style dresses and tops, tart warmers, decorative flags, handmade cards and journals, welcome mats with changeable seasonal inserts and Color Street Nail Polish.
The shop will be a great place to check out for beach accessories.
Another of Wong's friends is providing "beach-themed" fashion items from her shop in Orange, Virginia, – big bags and large lovely hats from the "Simply Southern" clothing line.
Entrepreneurship must run in Wong's blood. 
She used to have a "Country Home Primitive" shop in Madison, Virginia, and knew right away when she moved here that she would soon be opening another business.
While she enjoys running her own business, she wants to do more.
When the weather gets a little more cooperative, Wong plans to host outdoor community events on the wraparound porch of her shop.
Our Town Boutique and Legacy Designs share a building, often referred to as "the old Men's Shop." 
Wong and Legacy Design owner Ashli Diller are already considering a hair, nails, shopping and refreshment Ladies Get Together.
Look for Wong to do what she can to promote the town of Marlinton and Pocahontas County.
"I want everyone to know that there are so many nice businesses here in Marlinton," she said. 
"This is such a wonderful place – it's really special. And the people are so friendly.
"I'm going to be working on a lot of ideas about how I can get more involved in the community and do some good."
She's also looking for local handmade Pocahontas County and West Virginia products to carry in Our Town Boutique.
If you are interested in selling your handmade products in the shop, Wong would be pleased to hear from you. 
Call her at 540-661-2516 or email her at jillrwong@gmail.com
Our Town Boutique is located in Marlinton, north on Rt. 219, just past Pocahontas IGA.
Summer hours may be different, but for now, Our Town Boutique is open Wednesday through Friday, 10 a.m. to 6 p.m., and Saturdays from 10 a.m. to 5 p.m.