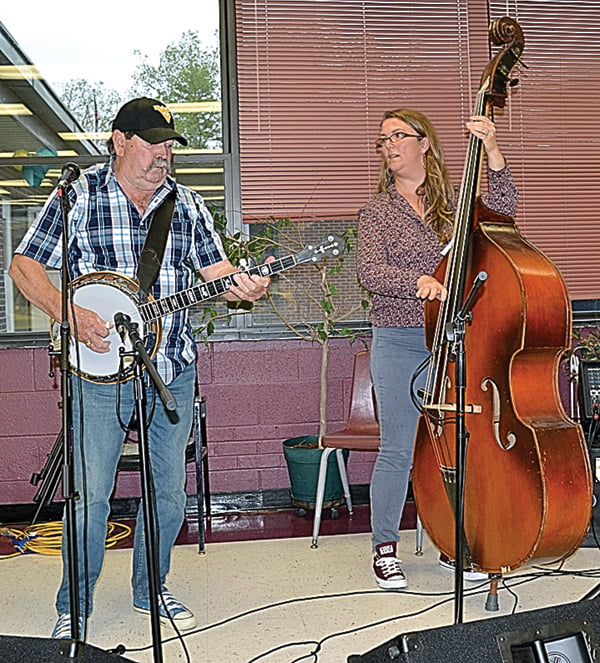 The annual Opry Night at the Pocahontas County Opera House has come to represent some of the best bluegrass and old-time traditional talent in the region. This year's program, on Saturday, February 23, at 7:30 p.m., will feature Pocahontas County favorites Richard Hefner and Joanna Burt-Kinderman sharing the stage with Homer Hunter and Stony Bottom Bluegrass.
When Richard Hefner started to learn the banjo in the late 1960s, he said he had no idea he would still be doing it 50 years later.
"I also had no idea the places I would go and all the people I would meet and play with—all because of the music."
Hefner said he's looking forward to playing with longtime friend and Mill Point neighbor Joanna Burt-Kinderman.
"Joanna was a friend before she started playing music," Hefner said. "I have known her since she was born. We have great times together, both of us still learning tunes. Combine us two along with friends, family and fans at the Pocahontas Opry House, and it's going to be fun."
"I am just the latest in a long string of lucky musicians who learned to play under his wing," Burt-Kinderman said."
"I've been listening to Richard's banjo all my life. When I picked up the bass in his living room some years back and plunked a few halting notes, he said, 'You got it! Let's pick another.' Don't kid yourself; I sounded awful.  But I loved it, and like many before me, my love for this music met with Richard's generosity, and he continues to teach me to be better."
When you listen to the two of them play, you will hear the bluegrass banjo as it was meant to be played—with groove and with drive. And you will hear a Richard Hefner super-fan in the form of a bass player—applauding through the 1 and 5 notes.  
Sharing the stage with Hefner and Burt-Kinderman will be the Stony Bottom Bluegrass band.
Stony Bottom Bluegrass features Homer Hunter, who is a retired Marine Corps Veteran, humanitarian, and long-time local radio personality on the community stations of Allegheny Mountain Radio. Stony Bottom Bluegrass plays traditional bluegrass with influences including Bill Monroe, Jimmy Martin, Ricky Skaggs, Flatt and Scruggs, and Larry Sparks. Joining Hunter are band members Dana Moyers, of Fincastle, Virginia, formerly of Durbin, on mandolin; Dewitt Daniell, of Lewisburg, playing a straight-ahead Scruggs-style banjo; Bob Riggleman, of Lewisburg, on bass; and Bob's wife, Julie Riggleman on second rhythm guitar and vocals; former AMR Afternoon Shake host Jake Hyer on fiddle and vocals, and sixth generation Pocahontas County native Gary Sharp on resonator guitar and vocals.
Tickets are $10 for adults. Youth 17 and younger are admitted free of charge. Tickets are available at the door and in advance at poca hontasoperahouse.org or at the 4th Avenue Gallery in Marlinton.
The Pocahontas County Opera House is located at 818 Third Avenue in Marlinton. Performances at the Opera House are informal, family-friendly and open to all. The entrance and main seating are accessible to persons with disabilities. Persons with disabilities are encouraged to attend; special accommodations can be arranged upon request by calling 304-799-6645.