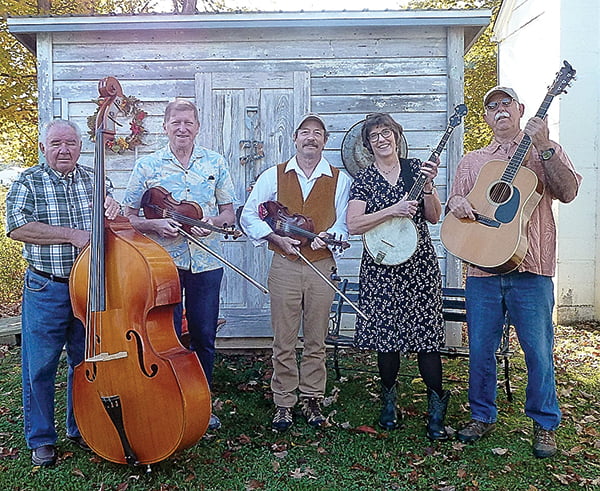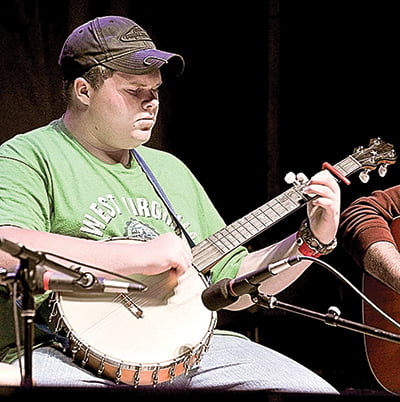 Three local favorites from the old-time music community as well as a fiddler with a flair for the unexpected will take the stage at the Pocahontas County Opera House this winter season.
Opry Night
February 17, 2018
7:30 p.m.
The annual Opry Night at the Pocahontas County Opera House has come to represent some of the best bluegrass and old-time traditional talent in the region. This year's program features local favorites Juanita Fireball and the Continental Drifters and award-winning young banjo player Trevor Hammons.
Juanita Fireball and the Continental Drifters debuted at the Opera House in 2008, although they have been making music in one form or another for years. They play the Appalachian string band tunes that they learned from old-timers in West Virginia, Virginia and North Carolina, and sing songs about animals, outlaws, fruit and love, with a few gospel numbers for balance. The high energy of their hard-driving music will have you dancing. The band consists of Mike "Juanita Fireball" Burns and Jay "Pluto" Lockman on twin fiddles, Mary Sue "Lulu" Burns on the clawhammer banjo, Wayne "Handyman" Walton on the doghouse bass, and John "Rev. Sleepy John" Sparks on the guitar.
Banjo player Trevor Hammons carries on the storied history of his great-grandfather Lee Hammons, who influenced a generation of old-time musicians. In just seven years of playing, Trevor has quickly built a reputation, earning honors at the Galax Old-Time Fiddlers Convention, the Clifftop String Band Festival, and the Vandalia Gathering.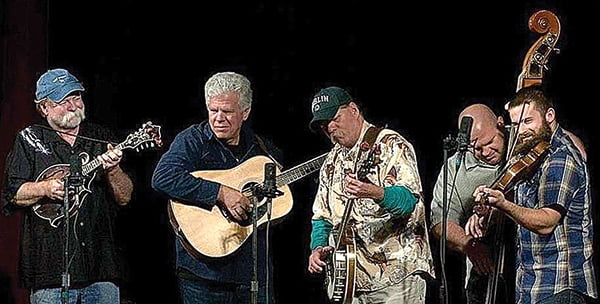 The Bing Brothers
March 10, 2018
7:30 p.m.
For more than 40 years, The Bing Brothers have played their hard-driving brand of string band music from Canada to Florida – from Spain to England – and from Australia, to Ireland and Scotland. Their sound was formed in the West Virginia mountains, and they remain true to their roots. Yet, The Bing Brothers are highly versatile, playing selections in old-time and bluegrass, as well as traditional Irish songs and ragtime.
Banjo player Tim Bing is a 14-time West Virginia State Champion and Appalachian String Band winner. Fiddler Jake Krack has won the Galax Fiddler's Convention Contest six times and is known as one of today's top old-time fiddlers. Mandolin player and band leader Mike Bing is the glue that has kept the band together, and he also created the Allegheny Echoes Summer Workshops, which celebrate Pocahontas County and West Virginia music. Mike has developed his own style of Mandolin which blends a solid rhythm chop and unmatched melody playing into the Bing Bro-thers' style. Because of their contributions to West Virginia music, Mike and Tim Bing were the 2012 recipients of the West Virginia Culture and History's Vandalia Award.
The Bing Brothers Band have kept the powerful rhythm of the band cranking with the additions of guitarist Bob Lieving and bassist Tim Corbett in 2002. In 2010, fiddler Jake Krack joined the band as they began to reach new levels. Since that time, the band has won First Place in the Old-Time Band Contest at the Galax Fiddler's Convention four times, at which Jake Krack was also awarded First Place Fiddler six times and Best All Around Performer five times.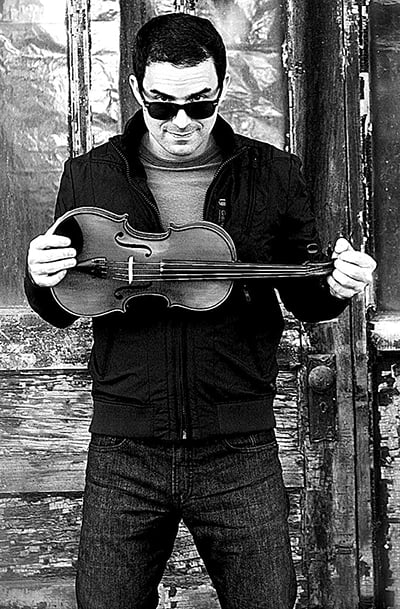 Adam DeGraff
March 24, 2018
7:30 p.m.
Adam DeGraff is an American violinist, composer, teacher and farmer. He spent the first part of his career as a first-chair, professional orchestral musician working under the batons of all those famous white dudes who's names you probably know if you are into classical music. Since then, DeGraff has been experimenting with rock violin, song writing, alternative music education, and traditional organic farming practices.
Though he regularly hangs with chickens, pigs and cows, DeGraff has only been bitten once – by a human violin student.
DeGraff went to Northwestern University as an undergraduate where he studied with famed Portuguese violinist Gerardo Ribeiro. He then continued with graduate work at Rice University where he studied with the world's most beloved concertmaster, Raphael Fliegel. Today, millions of You-Tube views, powered by millions of people lazing around on their computers, has catapulted DeGraff and his projects into the realm of Fortune-500 corporate entertainment, NFL halftime shows, and celebrity weddings; ultimately allowing him to offer scholarships to talented kids around the world for private Skype lessons.
Currently DeGraff performs as a soloist and with Morgan Weidinger, The Weight, Pianafiddle, and The Dueling Fiddlers. He teaches internationally via Skype and he lives, farms, and teaches in what is officially "America's Coolest Small Town" – Lewisburg, West Virginia.
Tickets are $10 for adults. Youth 17 and younger are admitted free of charge. Advance tickets are available at pocahontasoperahouse.org and at the 4th Avenue Gallery in Marlinton.
The Opera House Performance Series is presented with financial assistance through a grant from the West Virginia Division of Culture and History and the National Endowment for the Arts, with approval from the West Virginia Commission on the Arts. Support is also provided by Pocahontas County Dramas, Fairs and Festivals and the Pocahontas County Convention and Visitors Bureau.
The Pocahontas County Opera House is located at 818 Third Avenue in Marlinton. Performances at the Opera House are informal, family-friendly and open to all. The entrance and main seating are accessible to persons with disabilities. Persons with disabilities are encouraged to attend; special accommodations can be arranged upon request by calling 304-799-6645.