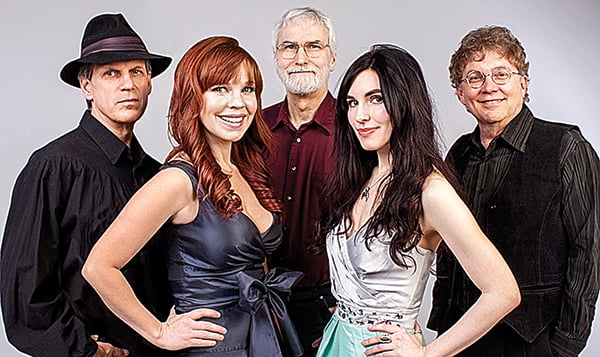 The Pocahontas County Opera House will present a concert with multi-instrumental world music ensemble Lone Raven Saturday, April 7, at 7:30 p.m.
Garnering rave reviews throughout the country, Lone Raven performs an eclectic blend of traditional music from around the world on a variety of unique, ethnic instruments. In addition to sharing the music of their ancestors, they delight audiences with a collection of award-winning, original compositions that have been featured on radio and TV across the globe.
With more than 20 instruments on stage, the band soars through everything from heartfelt Irish ballads to exhilarating Gypsy fiddle tunes, musically transporting listeners through breathtaking European landscapes.
The excellent musicianship of each band member is apparent in every song, strengthened by the inclusion of multiple instruments, abundant energy, and a deep, personal connection to the music. Kara Markley's highly acclaimed vocals are showcased throughout each concert, with songs performed in English, Irish Gaelic and Latin. Passionate instrumentals are fueled by the twin fiddles of Elizabeth Blickenstaff and Kara, driven by an explosive rhythm section consisting of Craig Markley and the award-winning guitar playing of Neil Jacobs.
The band tours nationally throughout the entire year, playing at festivals, theatres and concert halls, thrilling crowds of all ages with their charismatic personalities and diverse repertoire.
Tickets are $10 for adults. Youth 17 and younger are admitted free of charge. Advance tickets are available at pocahontasoperahouse.org and at the 4th Avenue Gallery in Marlinton.
The Opera House Performance Series is presented with financial assistance through a grant from the West Virginia Division of Culture and History and the National Endowment for the Arts, with approval from the West Virginia Commission on the Arts. Support is also provided by Pocahontas County Dramas, Fairs and Festivals and the Pocahontas County Convention and Visitors Bureau.
The Pocahontas County Opera House is located at 818 Third Avenue in Marlinton. Performances at the Opera House are informal, family-friendly and open to all. The entrance and main seating are accessible to persons with disabilities. Persons with disabilities are encouraged to attend; special accommodations can be arranged upon request by calling 304-799-6645.