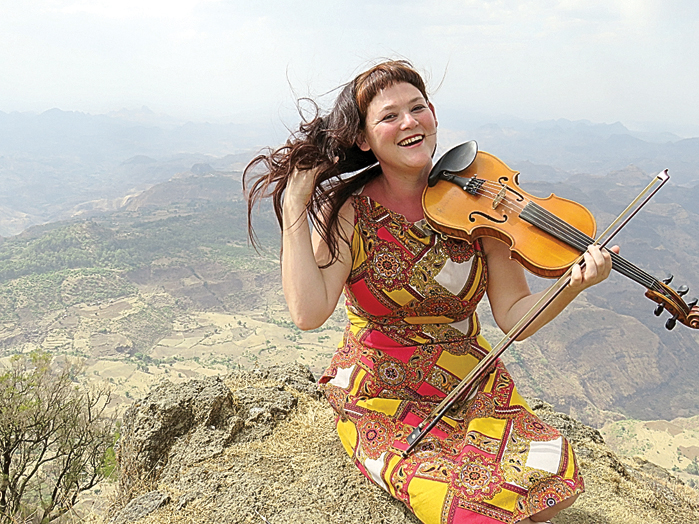 Saturday, November 20
7:30 p.m.
After 11 years in Ethiopia, Kaethe relocated to her hometown of Santa Cruz in March 2020 to wait out the pandemic. As months passed, the political situation in Ethiopia devolved, and humanitarian crises on many levels kept her from returning.
Reflecting on her time in Addis and thankful to have dodged some imminently worrying events back in the region, she developed and recorded a body of work for solo violin centered around her rich experiences in Ethiopia. Fortunate to access a state-of-the-art studio, this solo album pulls these experiences together in an accessible way. Kaethe looks forward to touring with this music this fall.
These compositions speak to her 11 years in Ethiopia, combining storytelling with traditional Ethiopian music elements and multimedia video effects where the venue permits.
Kaethe will be bringing back her band, QWANQWA, in 2022. The ensemble was founded in 2012 by Kaethe, who first worked in Ethio-pian music as a founding member of the critically acclaimed Debo Band. Since relocating to Addis in 2009, she has participated in numerous exploratory and professional projects, as she honed her sound and immersed herself further into the culture of her surroundings. In this sense, QWANQWA, the Amharic word for "language," is a project creating dialogues between cultures.
The Opera House will require all guest (regardless of vaccination status) to wear a mask inside the building. The event will also operate at a 30% reduced capacity. Group seating is also available upon request once guest arrive.
Performances at the Opera House are informal, family-friendly and open to all. The entrance and main seating are accessible to persons with disabilities. Persons with disabilities are encouraged to attend; special accommodations can be arranged upon request by calling 304-799-6645.
The Opera House Performance Series is presented with financial assistance through a grant from the West Virginia Department of Arts, Culture and History and the National Endowment for the Arts, with approval from the West Virginia Commission on the Arts. Support is also provided by Pocahontas County Drama, Fairs and Festivals and the Pocahontas County Convention and Visitors Bureau.