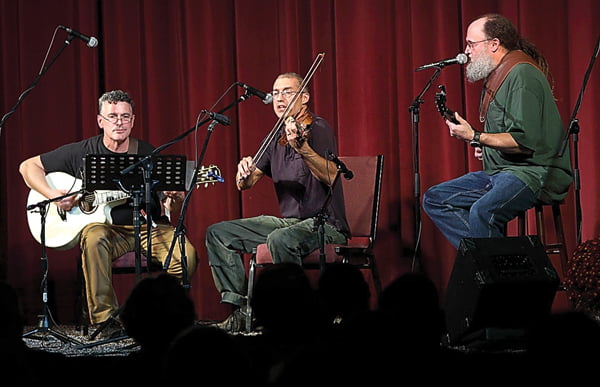 Local musicians, artisans, community members and visitors will come together to experience and celebrate mountain music, craft and dance in the making during the Music in the Mountains Old-Time Festival at the Pocahontas County Opera House Friday and Saturday, September 14 and 15.
The weekend festival begins Friday at 7:30 p.m. with a concert featuring Trevor Hammons and friends, followed by Sugar Run.
Saturday afternoon activities include craft demonstrations, children's games, an open old-time music jam, cornbread contest, and more. Kettle corn and homemade ice cream will be available throughout the day, followed by a cornbread and bean soup dinner at 5:30 p.m. Entries for the cast iron cornbread contest must be at the Opera House by 4 p.m. to be considered.
Saturday afternoon music includes an open jam at 3 p.m., then Bill Hefner at 4 p.m. and the Elk River Ramblers at 5 p.m.
On Saturday evening, beginner square dance lessons start at 6:30 p.m. with a traditional square dance to close the weekend's festivities at 7 p.m.
Admission to Friday's concert is $10. Saturday's square dance admission is $5. Tickets will be available at the door both days.
Performances at the Opera House are informal, family-friendly and open to all. The entrance and main seating are accessible to persons with disabilities. Persons with disabilities are encouraged to attend; special accommodations can be arranged upon request by calling 304-799-6645.
The Opera House Performance Series is presented with financial assistance through a grant from the West Virginia Division of Culture and History and the National Endowment for the Arts, with approval from the West Virginia Commission on the Arts. Support is also provided by Pocahontas County Dramas, Fairs and Festivals and the Pocahontas County Convention and Visitors Bureau.
The Music in the Mountains Festival is sponsored through the Cal Price Enrichment Series in partnership with the 4th Avenue Gallery Artisan Co-op.