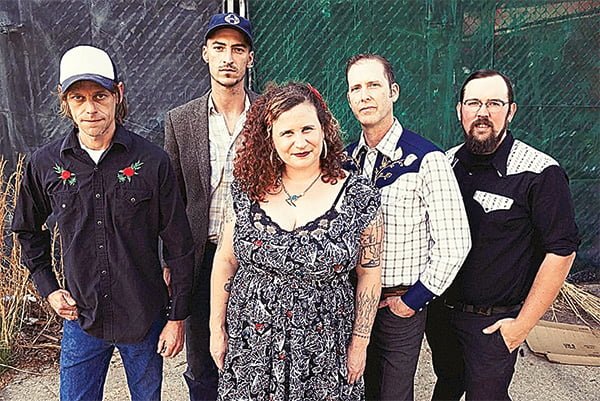 After starting out its 2017-18 season with a series of traditional Appalachian music concerts, the Opera House stage will present a pair of emerging Americana groups during the month of October.
Saturday, October 7, at 7:30 p.m., the Opera House welcomes Hearts Gone South to its stage for the very first time. Hearts Gone South plays original country and honky tonk, born out of a unfortunate tales of love gone wrong and ending in a stack of classic country-style hits. Hailing from Asheville, North Carolina, Hearts Gone South is lead by Tricia Tripp, with a cast and crew of all-star country players including Joel Jackson, Mick Glasgow, Derrick Spivey and John James Tourville.
Two weeks later, Dana Louise and the Glorious Birds will make their debut on the Opera House stage on Saturday, October 21, at 7:30 p.m.
The daughter of Ezra Idlet, of the Grammy-nominated Trout Fishing in America, Dana Louise is a new songstress astonishing audiences with her vibrant, melodic vocals, adept finger-picking and cool sound. Now touring her debut album, she is joined by the Glorious Birds—Adams Collins (vibraphone and 5-string banjo), Ezra Idlet and Keith Grimwood (Trout Fishing in America/guitar, percussion and bass). Drawing from jazz and bluegrass, carrying a contemporary beat, the sound is roots-rooted flung-into-the-future folk. Dana Louise and the Glorious Birds work to leave their audiences glowing with the magic music can bring – genuine human connection.
Tickets are $10 for adults. Youth 17 and younger are admitted free of charge.
Tickets are available at the door and in advance at pocahontasopera house.org or at the 4th Avenue Gallery in Marlinton.
The Pocahontas County Opera House is located at 818 Third Avenue in Marlinton. Performances at the Opera House are informal, family-friendly and open to all. The entrance and main seating are accessible to persons with disabilities. Persons with disabilities are encouraged to attend; special accommodations can be arranged upon request by calling 304-799-6645.
The Opera House Performance Series is presented with financial assistance through a grant from the West Virginia Division of Culture and History and the National Endowment for the Arts, with approval from the West Virginia Commission on the Arts. Support is also provided by Pocahontas County Dramas, Fairs and Festivals and the Pocahontas County Convention and Visitors Bureau.